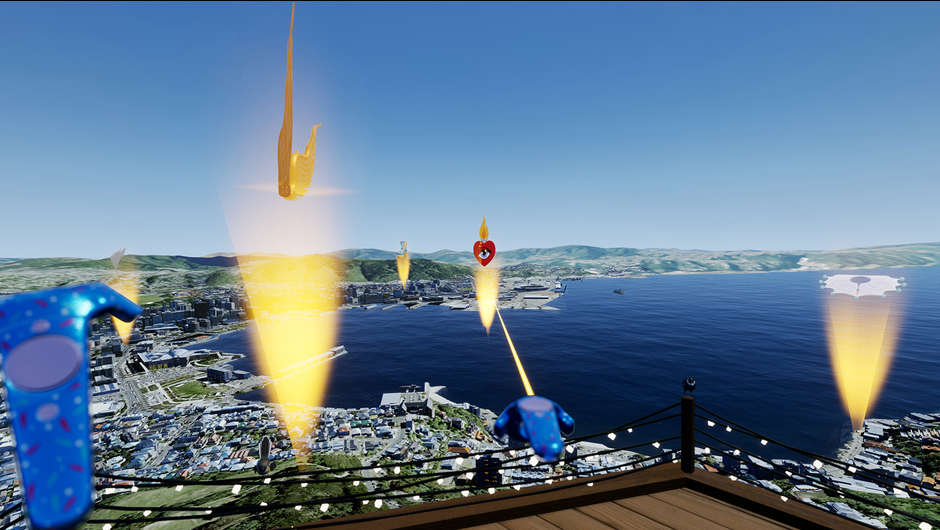 Credit: welltown -WellingtonNZ.com
New Zealand's innovative capital, Wellington, home to a booming tech and screen industry has transformed itself into what is believed to be the world's first gamified virtual city.
Virtual Wellington allows people to explore and interact with the city without boarding a plane. It includes an interactive game, WellTown, available for free download in the Steam and Oculus VR stores, and 360-video tours around Wellington attractions, education institutions and workplaces.
WellTown takes VR users on a fun, gamified tour around Wellington, a small and compact city surrounded by hills and harbour, famous for its cafés, art and culture, tech scene and movie industry that's produced the likes of the Lord of the Rings and Hobbit trilogies, Avatar and latterly Mortal Engines.
Made up of six short virtual experiences, players can shoot coffee at caffeine-deprived zombies as they finish their morning commute, take an underwater dive in Wellington's pristine harbour as a curious whale swims by, listen to the dawn chorus of birdsong in the native bush that surrounds the city, busk with a local band on Wellington's coolest street, stand beneath a starlit sky during Matariki (Māori New Year), and help people take a leap off a diving platform on Wellington's vibrant waterfront.
After completing each experience, players receive a physical adornment which transforms them (or at least the avatar they've chosen) into their best, most creative self.
For those wanting to take a closer look at what Wellington has to offer, Explore More provides the opportunity to immerse yourself in some of Wellington's most iconic experiences via 360 video – from an All Blacks rugby test match at Westpac Stadium and the office of Wellington-based global online accountancy firm Xero, to a special glimpse of a Weta Studio Tour at the Oscar-winning Weta Workshop.
Players can switch between the WellTown and Explore More components of Virtual Wellington as "an outrageous local" guides users around the coolest little capital in the world.
The game has been created by WellingtonNZ, the region's tourism organisation. General Manager Anna Calver says Wellington is New Zealand's capital of tech and creativity, and a game was the natural next step in how to encourage people to visit Wellington.
The city has a growing cluster of AR/VR firms creating content for a range of domestic and international clients, alongside content made for Magic Leap and Apple by Weta Gameshop and Wingnut AR (owned by Wellington's movie titans Sir Peter Jackson and Sir Richard Taylor).
Wrestler co-founder Kat Lintott, makers of WellTown, says they struck upon the gamification of Wellington as a novel way of telling the Wellington story.
WellTown used city-wide data to create the virtual Wellington City and then added a layer of story and gamification utilising motion capture, CG, 360 interactive video and photogrammetry.
Virtual Wellington is free to download from the Steam and Oculus VR stores and can be viewed on YouTube. An android and iOS version are in the works. Find out more at WellingtonNZ.com