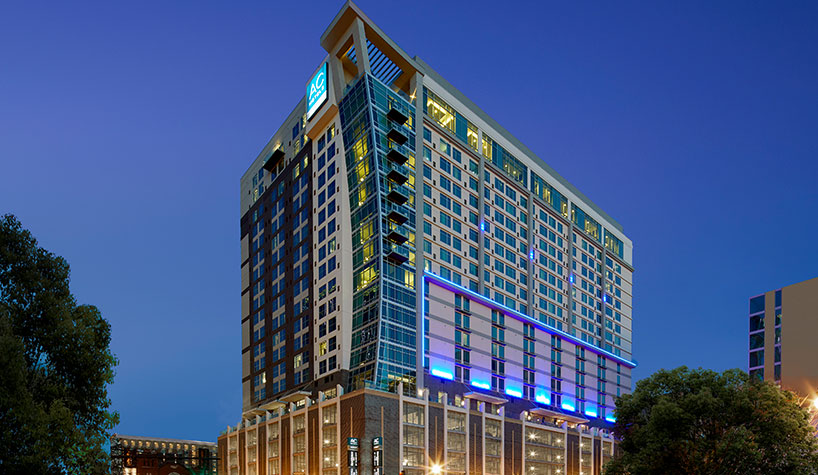 Marriott International today announced the opening of its first newly built property that combines three brands under one roof in vibrant Nashville, across from Music City Convention Center. Developed by North Point Hospitality, the 21-story, $140 million property features three Marriott brands – design-forward AC Hotels, extended stay Residence Inn and stylishly spacious SpringHill Suites – offering business and leisure travelers distinct experiences and amenities under one roof.
The property, located across from the city's convention center, also underscores Marriott's growing number of multi-brand properties that can cater to several customer segments at one convenient location. The company now has 98 properties with two brands, with 144 more under development worldwide.
Three distinct hotel experiences
At the 209-room AC Hotel Nashville Downtown, guests can take respite from the hustle and bustle of the city, enjoying sophisticated, sleek design that edits away the unnecessary to allow them to focus on what's important to them. Drawing on Nashville's heritage as Music City, AC Nashville Downtown features musical facets and geometry-inspired patterns and lines, as well as neutral hues that enhance the architectural interior to provide a backdrop for striking local art. In the AC Kitchen, guests can enjoy innovative, European-inspired breakfast offerings including sweet and savory Spanish egg tarts, imported freshly sliced Iberico ham and French croissants. During the afternoon and evenings, travelers can mingle with locals as they unwind in the AC Lounge with local craft beers, hand-crafted cocktails – including the brand's signature Gin Tonic – and tapas-style small plates. Fast, free Wi-Fi and multiple workspaces provide a frictionless experience
The Residence Inn Nashville Downtown/Convention Center, which has 136 suites, offers guests expansive floor plans that include separate living and work spaces. The property caters to guests looking for longer stays, spacious suites and upscale design and amenities. Each suite has a fully-equipped kitchen with a coffeemaker, microwave oven and residential-sized appliances. To help guests maximize their time and thrive on long stays, the hotel offers free grocery delivery service, complimentary Wi-Fi, 24-hour food and beverage market, and onsite guest laundry facilities. For guests looking to stay fit on the road, Residence Inn offers on onsite, state-of-the-art fitness centers and custom running routes that can be accessed via MapMyFitness.
With suites that are larger than typical hotel rooms, the 125-room SpringHill Suites Nashville Downtown/Convention Center features separate living, working and sleeping spaces for flexibility and functionality. Each suite features the custom West Elm three-in-one sofa, which converts from a sofa to a daybed and a daybed to a trundle bed – without sacrificing style. A well-lit desk space ensures maximum productivity for those who need to get down to business. Every aspect of design – from furniture and lighting to colors and fabrics – has been carefully selected to offer calm and refreshing spaces that allow guests to relax and recharge. The hotel provides business services, complimentary Wi-Fi and a 24/7 Market for guests to take advantage of day or night.
Both Residence Inn and SpringHill Suites offer guests a daily complimentary breakfast with a wide variety of hot, healthy and indulgent choices, ensuring guests have a good start to their day.
Best-in-class Amenities
Thanks to the triple-brand formula, North Point created a property with best-in-class amenities that exceed what guests would find at a single-brand property. Guests, for instance, can enjoy resort-like amenities on the 6th floor that include an indoor/outdoor rooftop pool – complete with fire pits, cabanas and a wrap-around veranda with seating. On the property's 21st floor, guests can enjoy a cocktail in the rooftop bar – called rtb! – that boasts breathtaking views of Nashville's downtown skyline.
For special events, the property offers more than 9,000 square feet of flexible meeting space, including nearly 4,000 square feet of dedicated meeting space on the 21st floor with 16-foot, floor-to-ceiling windows.