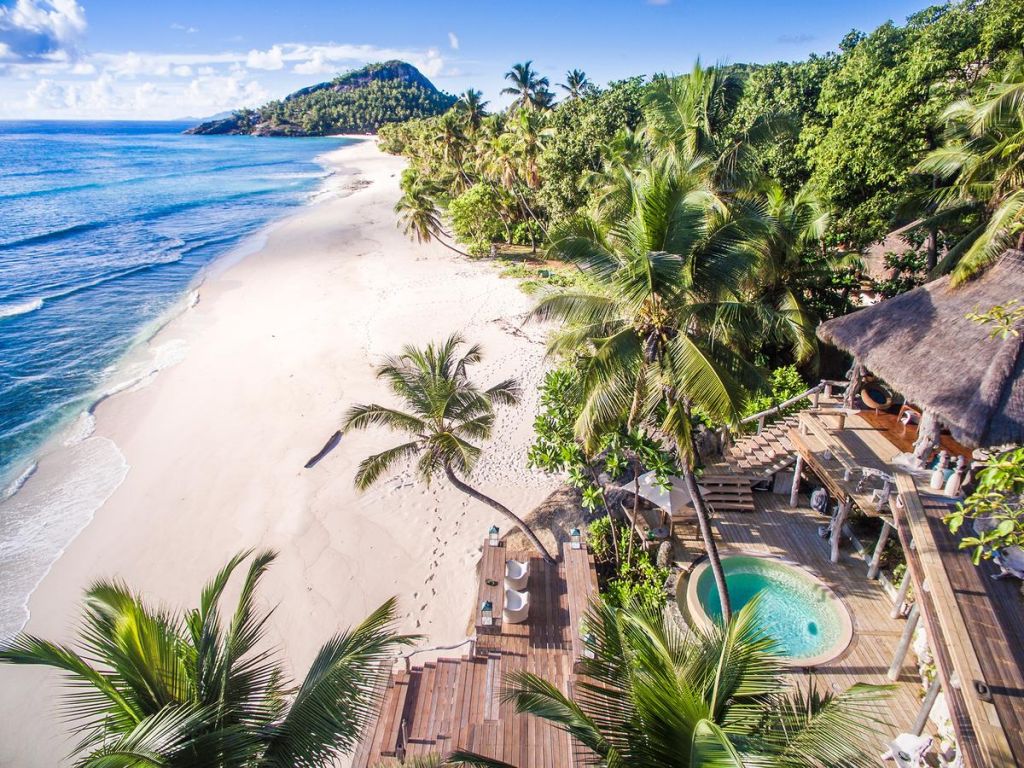 North Island announces that it is joining The Luxury Collection, part of Marriott International, Inc., comprised of world-renowned hotels and resorts offering unique, authentic experiences that evoke lasting, treasured memories. As one of the world's leading private islands, North Island is a unique addition to The Luxury Collection as it makes its debut in the Seychelles, one of the world's most desirable destinations. This iconic island resort is also the first hotel in the portfolio of the newly-launched A Small World Hotel Collection, who will oversee the resort's integration into The Luxury Collection brand portfolio and the operations of the business.
Speaking about the signing, Bruce Simpson, MD of North Island, said: "We are delighted to join the exclusive collection of properties under The Luxury Collection. North Island is the perfect fit for a brand that stands for such exclusive luxury, while recognising the importance of sustainable development, and we look forward to building on the position of the island as one of the world's most aspirational private-island destinations". Simpson also paid tribute to Wilderness Safaris, the Southern African ecotourism company who first created and then developed the Island and who has played an invaluable contribution to the evolution of North Island since its inception in 1997: "We look forward to their continued support as a partner, as The Luxury Collection further strengthens the Island's position in the global luxury travel market".
North Island remains a peerless setting for the perfect barefoot-luxury hideaway. With only 11 luxurious villas nestled amidst 201 hectares of lush paradise, guests are guaranteed complete privacy and exclusivity. Located approximately 30km north-east of the mainland, Mahé Island, yet a scenic 15-minute helicopter flight from Mahé International Airport leaves guests feeling a million miles away.
Once an abandoned coconut plantation, the Island has since been transformed into a sanctuary for endangered species. Luminous white beaches and azure seas welcome travellers as well as nesting sea turtles, while verdant palm forests are home to Giant Aldabra Tortoises and rare Seychelles White-eyes. North Island turned back the hands of time through its pioneering 'Noah's Ark' conservation programme, restoring the Island to its former natural glory.
North Island boasts dramatic granite peaks and vibrant reefs. On land or water, activities range from snorkelling, diving, fishing, sunset cruises, kayaking, paddle boarding and surfing, to exploring the cool calm forest trails by foot, bicycle or private buggy, or guests can simply relax on one of the Island's four pristine beaches located at each end of the compass. Facilities also include the Spa, Gym and yoga deck, main Swimming Pool, Activities Centre, Environment Centre, Library, Boutique, Piazza, Wine Cellar and West Beach Bar, as well as a plethora of private dining venues. The entire island is at a guest's disposal.
North Island's philosophy is about creating bespoke experiences and long-lasting memories. Personalised service, attention to detail and a generous all-inclusive offering aim to spoil and surprise on every level.