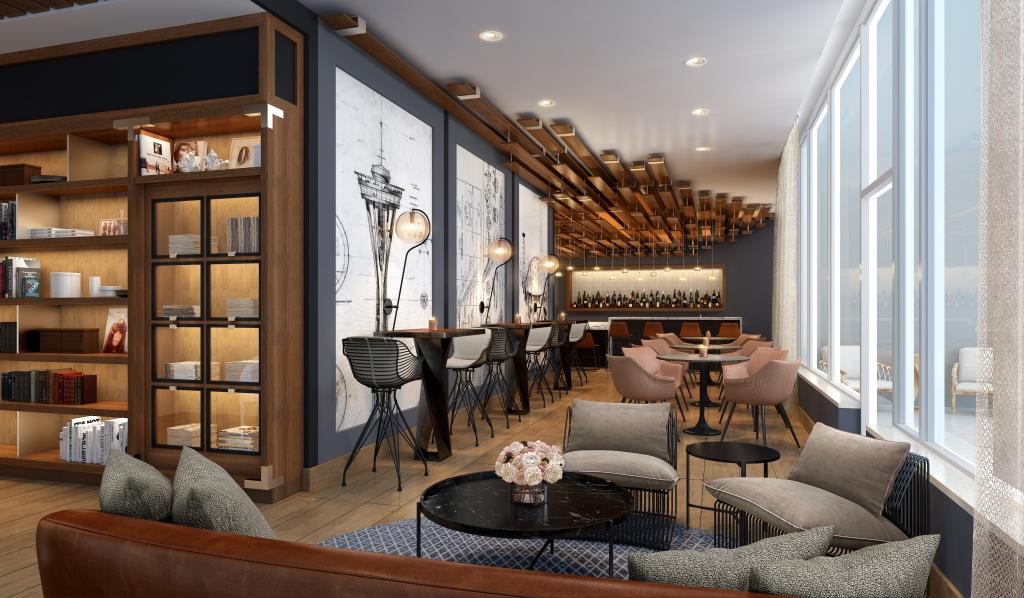 The Hotel Group and Hilton announced today the grand opening of The Sound Hotel Seattle Belltown, Tapestry Collection by Hilton. Woven into the fabric of Belltown, one of Seattle's most vibrant and centrally located neighborhoods, The Sound Hotel celebrates the sights, sounds and tastes that are unique to Seattle. It occupies the first 10 floors of the 42-story Arrivé tower, one of the first mixed-use properties, featuring rental units, in the market.
The Sound Hotel features 142 exquisitely designed guest rooms with expansive views of the downtown Seattle skyline and Puget Sound, a ground level restaurant, Currant Bistro, with an adjacent grab & go coffee bar. The hotel also has meeting and special event space ideal for small groups, offering unobstructed views of the Space Needle – one of a very small group of Seattle hotels with a view of this iconic landmark.
The hotel's 7th-floor Lupine Room offers 770 square feet of divisible meeting space, ideal for groups of up to 35. Featuring plenty of natural light, it can easily transform into an event space to accommodate an intimate gathering. In addition to the Lupine Room, Sound Bite Lounge is a relaxed, post-meeting gathering spot with a seasonal outdoor sundeck offering stunning views of the Space Needle.
Seattle chef turned food and beverage director Jon Langley worked closely with his team at Currant Bistro, the hotel's 36-seat restaurant and bar, to develop a menu of small plates perfect for sharing. Dishes are heavily inspired by the flavor profiles of Spain, Italy and France and are simple, approachable and non-pretentious, utilizing the highest-quality local ingredients and classic preparation techniques. This menu is also complemented by a robust wine list of Northwest favorites, along with a sprinkling of labels from California, France and Italy, as well as a selection of expertly crafted cocktails.
Design firm Hirsch Bedner Associates (HBA) immersed themselves into the hotel's neighborhood, visiting local hotspots and meeting with the community, to create an authentic Belltown experience. Upon arriving at the hotel entrance, guests are immediately welcomed into an artist's studio as stretched canvases, murals and finished concrete floors flow towards the reception desk. Guest rooms feature warm, wood-toned floors, echoing the feeling of a musician stepping onto a stage. Dark, moody bathrooms are reminiscent of backstage dressing rooms, with microphone lights, plush robes, metal accents and rich black linear tiles setting the perfect backdrop.
Artistic elements are also featured on the exterior of the hotel. Watkins commissioned Seattle graffiti artist Weirdo, a.k.a. Jeff Jacobson, to paint an original mural on an exterior brick wall facing several of the guest rooms, effectively turning those rooms into some of the most desirable in the hotel. This larger-than-life piece features Jacobson's signature vivid, post-Internet hyper-realism style and beautifully tells the story of The Sound Hotel through art.
Blending Seattle's creative bedrock with its innovation boom, The Sound Hotel provides easy access to top Seattle attractions, coffee houses, night clubs and international dining for an experience that is always of the moment. Sitting adjacent to the iconic Cinerama and just a few blocks from landmarks like the Space Needle, Pike Place Market and the Amazon Spheres, The Sound Hotel is both a central launch pad for adventure and a stylish, comfortable place to recharge at the end of the day.