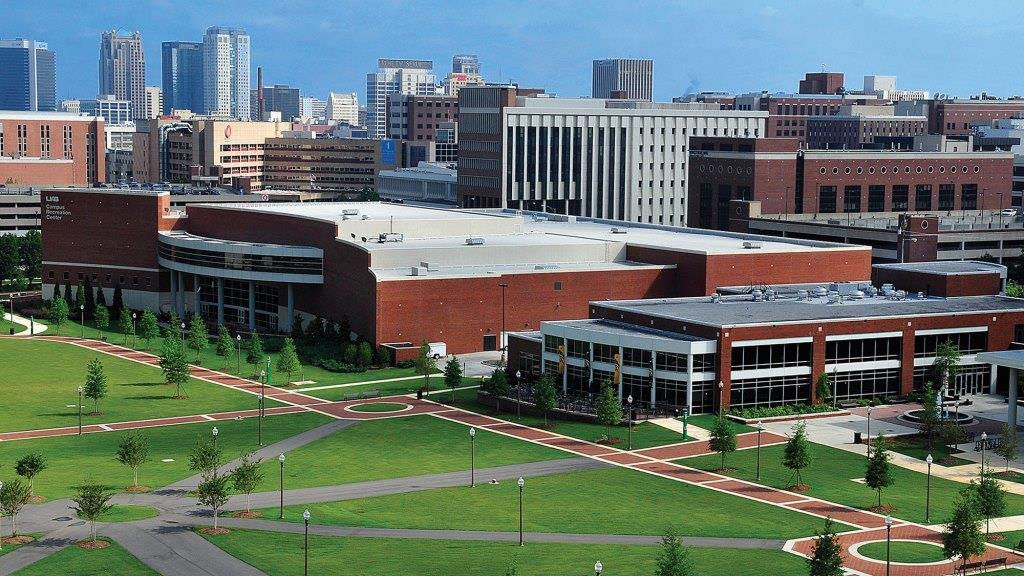 Today dignitaries from the University of Alabama at Birmingham, the City of Birmingham and Hilton Hotels & Resorts gathered for the grand opening of Hilton Birmingham at UAB, the university's flagship hotel on campus.
Following a multimillion-dollar renovation, representatives from UAB and Hilton welcomed members of the community to observe the hotel's collaborative transformation into a property that reflects UAB in both subtle and significant ways. The grand opening activities included property tours and a ribbon cutting, with appearances by members of the UAB Spirit Program and Pep Band.
Formerly the DoubleTree by Hilton Hotel Birmingham, the property was purchased by the UAB Education Foundation in November of 2016. The hotel's renovations began in March 2018, with a comprehensive design and refurbishment plan culminating in a top-to-bottom transformation of the hotel.
The renovation has been conducted with subtle details that invite guests to enjoy the history of Birmingham and UAB while enjoying the latest in technology and comfort. Special attention was paid to work areas in the guest rooms and suites to include multiple USB charging ports and custom stone desks. All guest bathroom areas also underwent renovations to feature a new, modern design. The new look also pays tribute to the hotel's environmental programs by offering entirely LED-lit rooms and suites. Custom guest room carpets and public area carpets finish out the upscale look and feel.
Completed in phases throughout 2018, the renovation included upgrading the hotel suites with more luxurious and contemporary furnishing and enhancing the executive room categories. Each of the 295 modern guest rooms offers floor-to-ceiling windows, a king or two queen beds, mini-refrigerators and safes.
The hotel's top floor features guest rooms with full balconies and unbeatable views of Birmingham's downtown skyline and UAB campus. Exceptional corner king rooms have expanded working and living spaces with sweeping views of downtown.
The executive lounge on the lobby level has also been refurbished with floor-to-ceiling windows that offer a stunning and an expansive view of the redesigned pool terrace and cityscape, creating a cozy area for both leisure and business guests to relax when staying on the executive floors and in suites.
The executive lounge offers a daily breakfast and a choice selection of alcoholic beverages and hot and cold drinks throughout the day. All executive room, premium executive room and suite room guests, as well as Hilton Honors Diamond and Gold members, are invited to visit the executive lounge to enjoy these special services.
Two dining options have been introduced with the hotel's conversion. The Lab Bar and Kitchen, now open on the hotel's ground floor, is a Southern-inspired, locally sourced bar and kitchen that complements Birmingham's thriving culinary scenes. Accessed via an entrance at the corner of University Boulevard and 20th Street South, as well as directly through the hotel, The Lab Bar and Kitchen is purpose-built to serve the community and UAB's campus as well as hotel guests. At the center of the action is a 27-seat rectangular bar that serves a variety of local craft beers, specialty cocktails and a full menu. Featuring large fire pits and open patio seating, The Lab Bar and Kitchen is a vibrant spot where travelers can kick back, relax and cheers with locals. Helmed by Chef Matthew Comarato, the restaurant showcases its southern roots through locally sourced ingredients prepared with a modern twist.
The second restaurant is a quick-serve cafe located next door to the Bar. The Lab Market Café serves customers on the go, with seasonal, locally sourced pastries and prepared foods. Made-to-order meals, gourmet salads and sandwiches are available, along with Hilton breakfast service and offerings at "Blaze" Coffee Bar.