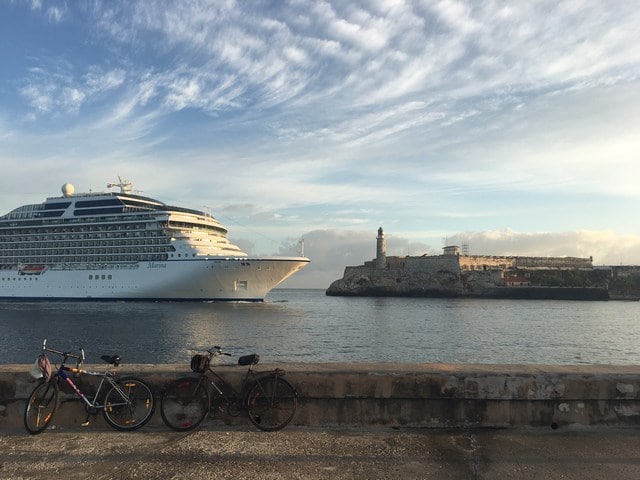 Oceania Cruises announced a ground-breaking sustainability initiative to eliminate millions of plastic water bottles per year through a new partnership with Vero Water. This pioneering green initiative is the newest facet of the brand's OceaniaNEXT enhancements and the company's larger Sail & Sustain environmental program.
"By introducing Vero Water to the Oceania Cruises experience, we are not only taking a quantum leap forward environmentally, we are providing our guests with the gold-standard of still and sparkling water," stated Bob Binder, President & CEO of Oceania Cruises. As part of its OceaniaNEXT initiative, the line's ships will be outfitted with Vero Water's acclaimed still and sparkling water distillation systems starting in April. Installation of the Vero Water systems will ultimately eliminate an estimated three million plastic bottles per year.
The Who's Who of the Hospitality World
Vero Water, is the world's leading purveyor of premium water distillation systems and is used around the globe by leading luxury hospitality brands such as Ritz Carlton, JW Marriott, Kimpton, MGM Hotels & Resorts, Hyatt, Fisher Island Club, Sea Island, and at the crème de la crème of restaurants including James Beard Award-winning Saba New Orleans, Eleven Madison Park, Meadowood at Napa Valley, Farmhouse Inn, Saison, Tribeca Grill, Blue Hill, and too many others to name.
Vero Water's environmentally friendly approach to great-tasting distilled water utilizes dishwasher-safe glass bottles which can be used over and over again, eliminating up to three million plastic bottles per year. Vero Water's proprietary purification system which utilizes Nano-Filtration and five separate layers of filters delivers delicious, crisp, perfectly chilled water.
Vero Water Onboard and Ashore
Vero Water service will be implemented in two phases during the coming year. Phase One focuses on implementing the onboard water service in suites, staterooms, restaurants, lounges and bars which will start in April and is expected to be completed by mid-June. Phase Two will marry the Vero Water service with the guest experience ashore. All guests will be provided with their own re-useable Vero Water bottle which will be theirs to keep and to take home with them. This phase-in is expected to start in the second half of 2019.
Implementation Schedule
Riviera – April 2, 2019
Marina – April 19, 2019
Regatta – May 1, 2019
Sirena – May 19, 2019
Nautica – May 30, 2019
Insignia – June 19, 2019