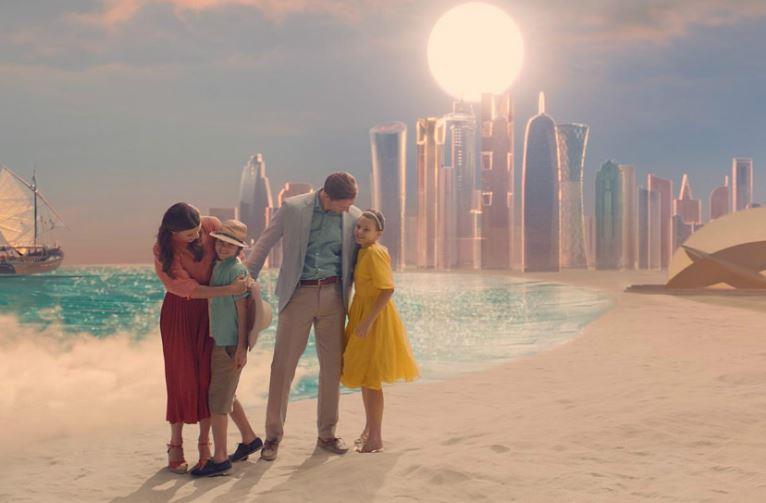 Qatar Airways starts the year with the launch of the airline's biggest and most cinematic brand campaign to date, 'A World Like Never Before'. Inspired by Hollywood and produced by some of the movie industry's most talented creative minds, the commercial takes passengers on a magical journey to a fantasy world that will capture their hearts and imagination.
The campaign, which launches globally on 17 January 2019, shows how flying with Qatar Airways transforms the entire experience of travel – and turns the familiar into something truly magical. Everything that Qatar Airways passengers see and do becomes an experience like never before.
The centrepiece of the new global campaign is a charming and visually stunning film portraying one family's journey with Qatar Airways. The fairy-tale voyage takes them from their flight through to the romantic streets of Paris, to the vibrant ice-rink and parades of New York City, the hustle and bustle of Hong Kong, the comfort and serenity of the airline's A380 lounge and the compelling mix of tradition and modernity of Doha – before the family finally return to their QSuite flat-bed – and then drift off to sleep in award-winning comfort.
Qatar Airways Group Chief Executive, His Excellency Mr. Akbar Al Baker, said: "This campaign embodies everything at the heart of Qatar Airways' brand values, as well as the pride we share in providing exceptional service to our passengers across the globe.
"The aim is to inspire and delight the viewer, and open them up to the possibilities that Qatar Airways, as the world's fastest growing airline, has to offer with gateways to more than 160 exciting destinations around the world.
"We want people to see the world in a new and exciting way… Like Never Before."
Qatar Airways Senior Vice President Marketing and Corporate Communications, Ms. Salam Al Shawa, said: "This brand film is different than anything Qatar Airways has ever done before. In many ways travel is a dream, a fantasy – and we have focused on these elements to create a film that takes the passenger on a magical journey.
Our ultimate goal was to create a Hollywood-style film that would not look out of place on the big screen and which epitomises the five-star image passengers have come to associate with the airline."
'A world like never before' was conceived and created by 180 Kingsday – Qatar Airways' agency of record – and produced by iconic London production company, RSA Films (Ridley Scott Associates).
The filmic and beautifully crafted art direction represents the premium experience of flying Qatar. The film combines set design, special effects and seamless choreography – more akin to a Hollywood blockbuster than a TV commercial.
The world-renowned production team was led by director Ben Scott, whose background in production design was central to bringing to life the vision of a world like never before. Working with him was director of photography John Mathieson – the twice Oscar nominated cameraman who previously shot Gladiator and Phantom of the Opera – and production designer Jonathan Lee who art directed feature films 'Star Wars Episode 2' and 'Elizabeth'.
Director Ben Scott of RSA Films said: "Qatar Airways have been extremely bold in giving me the freedom to make this film. It takes its cue from the period of first-class travel, by using the craft and technique from the golden days of the Hollywood musical. We have created a fantastical journey around the world. Something I hope feels like a dream come true."
180 Kingsday Executive Creative Director, Mr. Kalle Hellzen, said: "Qatar Airways is a remarkable brand that creates experiences that transform. I am very proud of the way creative ambition, talent and teamwork have combined to deliver this campaign – the next evolution in the brand's incredible story."
Qatar Airways' vision is brought to life in a truly cinematic way. Filmed on the biggest green screen in Europe by an incredible pool of talent, including a production crew of more than 200 people across four continents, as well as using a real ice rink and incredible detailed, handmade props. Post-production was handled by MPC in Amsterdam and London. MPC were behind the incredible after effects of films such as The Greatest Showman, The Jungle Book and this year's The Lion King.
The campaign includes film, digital, print, events and product campaigns featuring the airlines award-winning cuisine, service, in-flight entertainment and Oryx Kids Club.