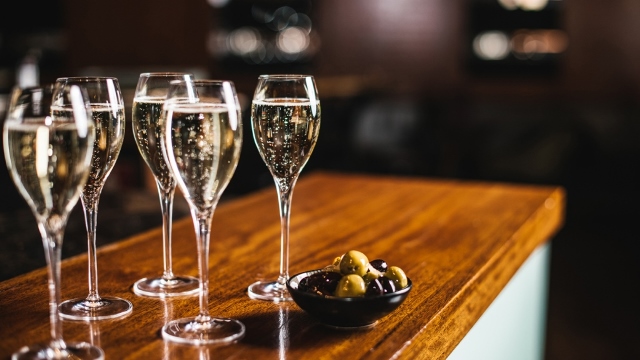 Oceania Cruises unveiled its exclusive Dom Perignon Experience at La Reserve. This first of its kind dining experience pairs six palate piquing courses with a different expression and vintage of Dom Perignon's acclaimed vintages.
"This is a totally new concept that is exclusive to Oceania Cruises. We worked with the team at Dom Perignon to pair the perfect champagnes with the perfect flavors and the outcome is spectacular. Marina and Riviera will be the only places in the world for travelers to enjoy this exclusive Dom Perignon experience," stated Bob Binder, President and Chief Executive Officer of Oceania Cruises.
Created by the culinary team at La Maison Dom Perignon in conjunction with Oceania Cruises' culinary team, the dinner is offered to a maximum of 24 guests.
"We created this dinner to be sophisticated, memorable, a little bit decadent, but also a lot of fun. After all, champagne is all about celebration," added Binder.
Dom Perignon Experience Menu
Scallops "Rossini", mole negro, roasted pineapple
Comme un Rossini de St Jacques, mole negro et ananas rôti
Dom Perignon 2009
Brittany blue lobster in yellow curry broth, coco foam
Curry jaune de homard bleu, nuage de coco
Dom Perignon 2006
Black truffle risotto, aged parmesan
Risotto aux truffes noires et vieux parmesan
Dom Perignon 2006
Seared wagyu beef sashimi style, sautéed arugula, blood orange-soya jus, caviar perlita
Sashimi de boeuf wagyu, roquette sautée, jus à l'orange sanguine et soja, caviar d'aquitaine
Dom Perignon Rose 2004
French A.O.C cheese plate, black currant-pepper paste, thyme flower
Assiette de fromage A.O.C, pate de fruit cassis-poivre et fleur de thym
Dom Perignon Rose 2004
Sakura tea "Geisha flower" ice cream, lemon caviar
Glace au thé fleur de Geisha et citron caviar
Dom Perignon 2009
"We've gone exceptional lengths to pair the flavors of the dishes and the accompanying vintages to bring out the best in each other, and even surprise the palates of our dinner guests. This will be an experience I hope our guests are talking about, with the fondest of memories, twenty years from now," stated Bernhard Klotz, Vice President of Culinary Operations for Oceania Cruises.
The Dom Perignon Experience is currently available for all Riviera voyages and will be introduced aboard Marina beginning with her January 31, 2019 voyage. Reservations are required, and the cost is $295 per guest, gratuities are additional.
Due to the exclusive nature of the Dom Perignon Experience which is limited to 24 guests. Advance reservations are highly suggested. Reservations may be made via their travel advisor, directly with Oceania Cruises, onboard at the Specialty Dining Desk located on Deck 5.