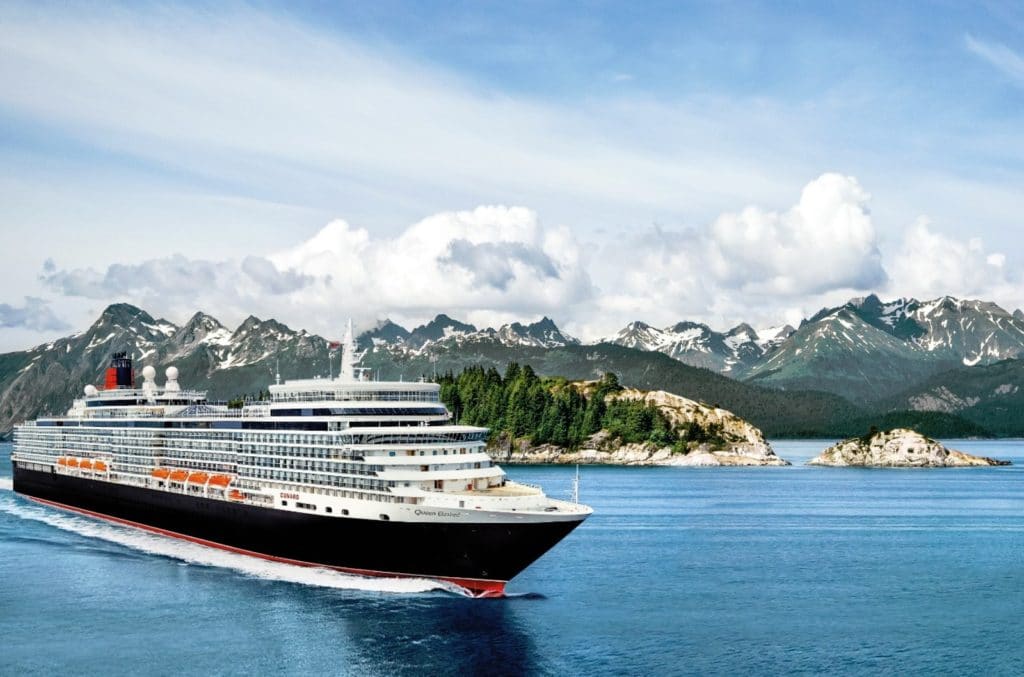 Luxury cruise line Cunard today announced that it will spend a full season in Alaska from June through September in 2020 on newly-refit Queen Elizabeth. Cunard is making its grand return to Alaska in May 2019 – and due to high demand, the line will double their program in 2020.
This expanded program will offer ten roundtrip voyages out of Vancouver ranging from nine to twelve nights and one getaway cruise to San Francisco for an overnight stay on Independence Day. Guests will have the opportunity to take in the breathtaking beauty of Alaska with the iconic experience of sailing on a Cunard ship.
Each Alaska voyage will feature fascinating destinations along the Pacific Northwest coast of Alaska and British Columbia with longer time in port including Skagway, Juneau, Ketchikan, Sitka and more. In addition, the voyages offer awe-inspiring scenic cruising in the narrow waterways of the Inside Passage, the Hubbard Glacier and Sawyer Glacier's twin fjords, Tracy Arm and Endicott Arm.
Passengers have the opportunity to combine voyages together, including the Alaska roundtrips, Independence Day cruise and the North Pacific Crossings from Yokohama or to Tokyo. These 2020 voyages include:
Alaska Voyage, roundtrip from

Vancouver

, 10 nights from

June 2-12, 2019

(Q017), fares starting at

$1,599

Independence Day Celebration,

Vancouver

to

San Francisco

with an overnight in port, 3 nights from

July 2-5

(Q020A), fares starting at

$599

San Francisco

to

Vancouver

, 16 nights from

July 5-21

(Q020D), fares starting at

$2,659

Vancouver

to

Tokyo

, 29 nights from

August 29-September 28

(Q026A), fares starting at

$4,459
Queen Elizabeth, the youngest ship in the fleet, has just come out of refit this November, launching a new spa concept onboard: Mareel Wellness & Beauty, developed in partnership with industry innovator Canyon Ranch. The new brand will offer a holistic approach with a focus on the healing energy of the sea. The spa offers an extensive new treatment menu with mineral-rich seawater and marine-based experiences as well as a redesign of the entire spa facility. In addition, many public spaces, bars and lounges have been updated and all Grill Suites and Britannia Staterooms have new carpets and soft furnishings. The Royal Court Theatre had a complete technical overhaul; the Royal Arcade has been enhanced to offer an elevated shopping experience; and the outdoor decks have new furniture with a new layout on the Sun Deck.
Cunard continues its partnership with Rocky Mountaineer, offering pre- and post-cruise tours on the famous railroad. Tours include either three- to five-nights' accommodation, plus two full days aboard the train. The expedition travels through a spectacular array of scenery with glacier and snow-capped peaks of the Canadian Rockies, through winding river canyons, mountain passes and remarkable tunnels. Highlights include the Continental Divide, Kicking Horse Canyon, Spiral Tunnels and the rushing waters of Hell's Gate in the Fraser Canyon.
Guests will also be able to take advantage of the three-night pre-cruise tour Vancouver and Whistler Highlights, taking in the best of Vancouver including Grouse Mountain and Stanley Park, and a full day in Whistler and Shannon Falls via the Sea-to-Sky Corridor.