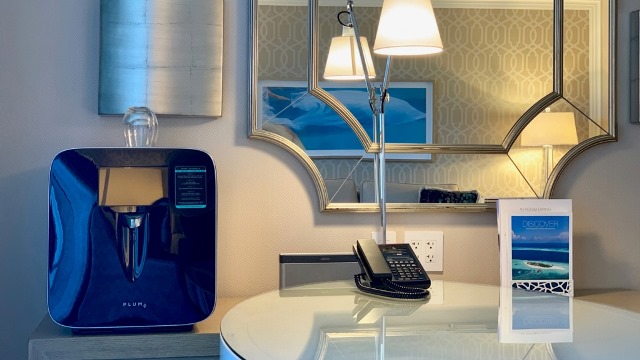 Guests at Four Seasons Resort Orlando at Walt Disney World Resort enjoy premium in-room design features, such as an in-mirror television in the bathroom vanity, and an iPad for ease of making requests at the tap of a button. Now, guests in select room categories have the convenience of dispensing a glass of wine on demand at the touch of a button, through Plum, the Resort's new on-demand wine system. Guests no longer have to wait for room service to arrive and uncork the bottle before enjoying a glass.
Plum is the first wine appliance that enables consumers to have a premium wine-by-the-glass experience. Plum houses two standard wine bottles and preserves each bottle for up to 90 days. The Resort offers Plum in its 68 signature suites, including the Royal Suite, Presidential Suite, Grand Suite and all Park View Suites, as well as Park View guest rooms and select accessible guest rooms.
Four Seasons Resort Orlando is offering a 2016 Lyric by Etude pinot noir, and a 2016 Stag's Leap Napa Valley chardonnay, in the Plum units. The wines, available at USD 8 per 2.5 ounce glass or USD 15 for a 5 ounce pour, were selected by the Resort's team of sommeliers for their flavour profiles and general popularity. Guests can use Plum's interactive touchscreen to read more about the wine and even see photos of the vineyard. When dispensed, Plum is automatically charged to the guest's hotel folio.
"Plum is truly great for guests who are wine lovers, but perhaps don't wish to order an entire bottle," says Cory Saffran, Director of Food and Beverage at Four Seasons Resort Orlando. "Perhaps they wish to enjoy a glass on their guest room terrace before going to dinner. The convenience and ease of Plum are two reasons why guests love it."
From a Resort operations standpoint, Plum is a time saver, as room service attendants are spending less time delivering and uncorking wine for guests. It's also ideal for personalising service. If a guest is known to love a specialty wine such as Opus One, for example, the team can arrange for Opus One to be in the Plum unit, so the guest's favourite bottle is chilled and ready when they check in to the room.
For the Resort, which is Central Florida's only Five Diamond Award rated property, offering Plum is another testament to the many adult-oriented offerings the property boasts. From gourmet dining at the award-wining Capa steakhouse, named to the Wine Enthusiast list of 100 Best Wine Restaurants in the US, to an incredible Spa with six couples' suites, and a lakeside adult-only pool that is a true oasis, the Resort is ensuring "ways to keep adults happy" are front and centre.
Four Seasons Resort Orlando Offers New "Golf and Sports Club" Membership.