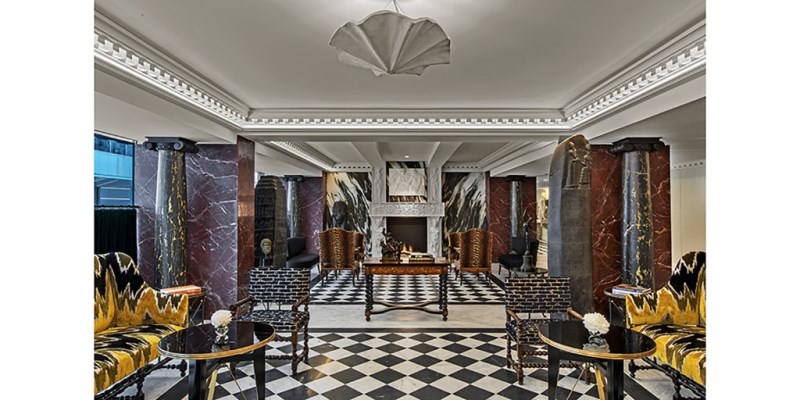 The Luxury Collection today announced the grand opening of Hôtel de Berri, a Luxury Collection Hotel, Paris. Owned by the Dokhan family, Hôtel de Berri offers eclectic, bold and refined designs devoted to the Parisian way of life. Meticulously styled by designer and artistic director Philippe Renaud, Hôtel de Berri features 75 guestrooms, including 35 suites, as well as Italian restaurant Le Schiap and cocktail bar Le Bizazz. The hotel's preserved 3,000 square metre landscaped garden is a precious legacy of the building's illustrious past.
Situated on Rue de Berri, one of the most sought-after addresses in Paris that has been home to aristocrats, royals and prominent leaders in French society since the 19th century, Hôtel de Berri draws inspiration from the trailblazers of the French Decorative Arts period including painters, designers and stylists from Coco Chanel to Salvador Dalí, with interior designs reflecting the "Art de Vivre" ethos made famous in the heart of Paris. Throughout the 19th and 20th centuries, the property was a private mansion for luminaries including Princess Mathilde and fashion designer Elsa Schiaparelli, Hôtel de Berri today aims to tell its storied history through the design of its rooms and public spaces.
Following the demolition of the property's private residences at 18, 20 and 22 Rue de Berri, including the home once inhabited by fashion designer and 1930's icon Elsa Schiaparelli, a vast office building designed by architect and city planner Maurice Novarina was constructed on the site. This unique building reveals an expressive, dream-like Parisian world within.
Wisdom, eclecticism and humour are common threads that run throughout the design of Hôtel de Berri. The Dokhan family, together with Philippe Renaud, have carved out several different decorative themes and ambiances that present vibrant colours, detailed parchments, ancient Chinese furniture, wrought-iron lamps, sketches and paintings.
Hôtel de Berri's guest rooms and suites are divided into six categories: Deluxe Rooms, Junior Suites, Signature Suites, Prestige Suites, Berri Suites and the Suite Parisienne. Marble bathrooms feature heated flooring, Skinjay aromatherapy showers, TOTO toilets and luxury Diptyque products. Throughout, the hotel showcases elite pieces of Parisian art and interior design. Giacometti, Jean-Michel Frank, Madeleine Castaing, Henri Samuel and David Hicks are just some of the featured artists. The interiors also include subtle references to fashion designers such as Jeanne Lanvin, Marie-Laure de Noailles, Coco Chanel and, naturally, Elsa Schiaparelli, to whom this address was home for forty years.
The Suite Parisienne, in all its neo-antique glory, is Hôtel de Berri's Presidential Suite, boasting 115 square metres. The three Berri Suites, each spanning over 100 square metres, use similar references to illustrious previous owners and visitors, allowing for a new discovery around every corner.
Check new Paris hotels here