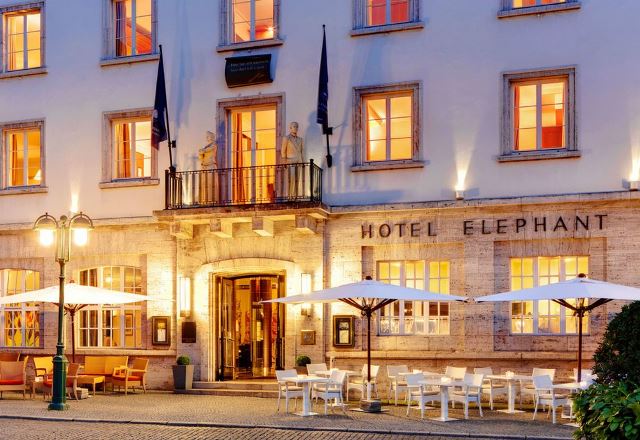 Autograph Collection Hotels has revealed the latest addition to its portfolio with the reopening of Hotel Elephant Weimar following a nine-month full renovation. Located in the city centre's historical market square, the hotel has been a cultural hub for more than three centuries, known for its classic Art Deco and Bauhaus features.
The boutique Hotel Elephant Weimar offers 99 guest rooms, all of which have been redesigned to capture the spirit of the property's artistic and architectural heritage. Three elegant and spacious suites are named after art, literature and architectural luminaries that have previously stayed as guests, including Lyonel Feininger, Thomas Mann and Walter Gropius.
John Licence, VP Premium & Select Brands Europe at Marriott International, said: "We are thrilled to reintroduce one of Germany's most historic hotels, uniting its rich history with an exceptional renovation. Exactly like nothing else, this timeless hotel upholds Autograph Collection Hotels' values of vision, design and craft"
The unique design is a result of the creative collaboration of Bost Interior Design and DK Architekten, which draws upon 1920s elegance fused with an eclectic mix of iconic German structural design and modern flourishes. Taking inspiration from Germany's leading literary figure, Goethe and his Theory of Colours, the colour palette throughout the property consists of rich, natural tones of grey, blue and dark emerald. While a thoughtfully curated collection of contemporary artwork adorns the hotel walls, the hotel is especially proud to be exhibiting works from leading German artists Georg Baselitz and Elvira Bach.
Celebrated for its artistic and cultural heritage, the historic hotel remains the ultimate hub for city explorers and is situated a stone's throw from the very best that Weimar has to offer. With 19 of the city's sites listed in UNESCO's World Heritage list and an array of cultural hotspots including the Classical Weimar ensemble, Herzogin Anna Amalia Library and the Memory of the World, guests can enlist the hotel's in-house cultural concierge to make the most of their trip.
The culinary highlight of the hotel is Restaurant AnnA, specialising in local, authentic cuisine in a stylish and contemporary setting. Executive chef Johannes Wallner is joined by the renowned sommelier and Maître d'hôtel, Hendrik Canis, providing an exquisite culinary experience with fresh and seasonal produce sourced primary from the region as the ethos of the menu. Guests can also enjoy their meal alfresco, seated in the idyllic garden terrace.
The Lichtsaal room is situated at the heart of the hotel offering a cultural hub for guests and local residents to meet and enjoy the properties unique art collection as well as a curated programme concerts, readings and plays.
A state-of-the-art sauna and fitness area will also be opening in February 2019. For meetings and events, the hotel provides 560m² of spacious and adaptable event and banquet space, accommodating up to 100 guests per room. Three unique meeting rooms filled with natural light are available to book, equipped with high-quality conference technology.
Room prices start from: €150 for a standard single and €200 for a standard double including breakfast.