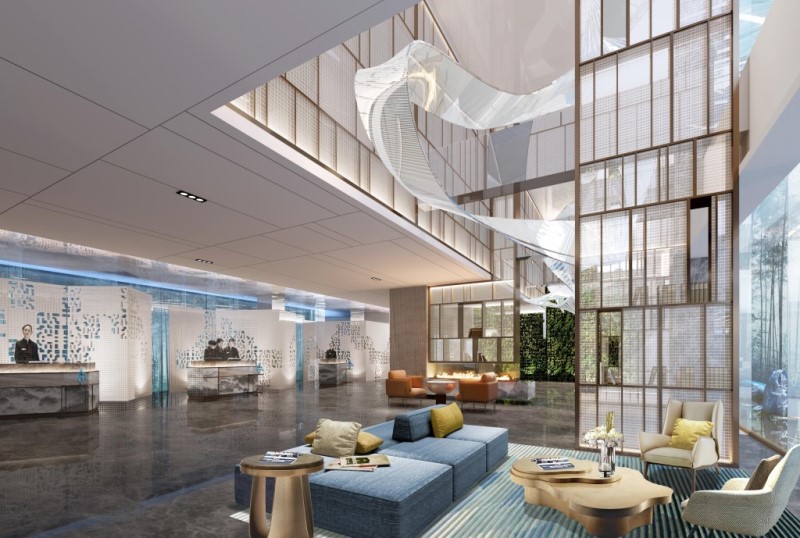 Radisson Hotel Group today announced the opening of Radisson Suzhou, a stylish and contemporary new hotel that will elevate the quality of upscale accommodation in Suzhou, the historic city in eastern China's Jiangsu province.
Developed by Suzhou Zheng He Investment Co., Ltd, this newly-constructed hotel forms part of a mixed-use development with an office tower. It is strategically located in the Suzhou Science and Technology Town, also known as Suzhou New District, which houses emerging industries such as high-tech innovation and new energy.
Radisson Suzhou offers a collection of 138 modern rooms and suites, an all-day dining restaurant, a specialty Chinese restaurant, sophisticated lounge, well-equipped 24-hour fitness center, and complimentary Wi-Fi. Catering to the MICE segment, the hotel features 667 square meters of flexible function space that is able to host corporate events and social functions.
The hotel is easily accessible via two airports; Wuxi Shuofang Airport, which is a 30-minute drive away, and Shanghai Hongqiao Airport, which lies 90 minutes from the hotel.
Radisson is one of the world's leading upscale hotel brands, delivering vibrant, contemporary and engaging hospitality that is characterised by its unique Yes, I Can! service philosophy.
Radisson Suzhou is a significant property for Radisson Hotel Group as we continue to expand our internationally recognized upscale hotel brand across Asia Pacific, Suzhou is one of the most popular tourism destinations in China. This exceptional new hotel will satisfy the high demand for quality accommodation in the city.
This new hotel also marks Radisson Hotel Group's entry into Suzhou, the second largest city in Jiangsu province. With more than 2,500 years of history, this enchanting city is famous for its canals, bridges and classical gardens. Suzhou is also now a center for high-tech industry and part of 21st Century China's dynamic new era.