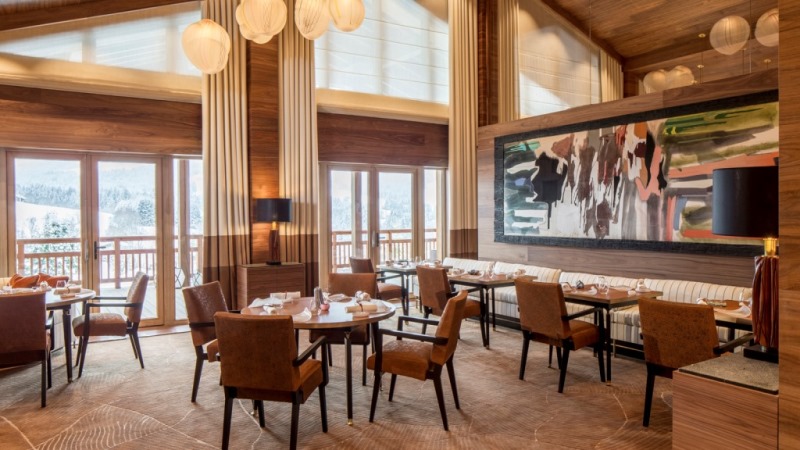 On Sunday, January 6, 2019, two-Michellin starred Chef Julien Gatillon will welcome Denis Prokhorov of Four Seasons Hotel Lion Palace St. Petersburg to offer Four Seasons Hotel Megève guests an exceptional Franco-Russian culinary experience at Le 1920. Julien Gatillon and Denis Prokhorov share a common characteristic – they both discovered their passion for cooking with their respective grandmothers.
"For the Russian Christmas celebrations I have selected refined, high-end products that are a perfect fit for the occasion, such as white and black truffles, langoustines, and so on. My cuisine always has a strong connection with the history of the Rothschild Family, and in keeping with this the menu will also feature truffled Brie de Meaux from the Family's Ferme des Trente Arpents, a product that is subtle yet full of character," says Chef Julien Gatillon.
"The menu marries traditional ingredients of Russian cuisine with modern techniques. For example botvinia, traditionally a soup, is transformed into a sauce. We will also be preparing the most luxurious elements of Russian cuisine, sturgeon and caviar, as well as my own recipe for beef Stroganoff, the sauce for which features mushrooms, mustard, fresh cream, cognac and parsley," says Chef Denis Prokhorov.
Menu
Trout marinated with beetroot, botvinia sorrel, fresh horseradish
Bucatini and Alba white truffle
Smoked sturgeon, dill cream, roasted leeks, osetra caviar
Crispy giant langoustine, parsnip mousseline and Périgord black truffle
Beef tenderloin Stroganoff style, gourmet potato purée, porcini, winter truffle
Edmond de Rothschild Brie with black truffle
1920 pavlova
EUR 450 per person excluding drinks. Taxes and service are included.