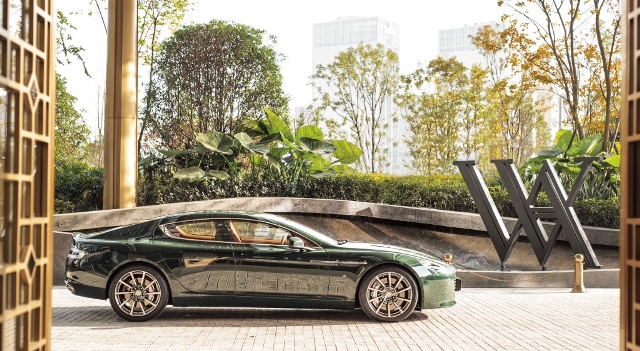 Aston Martin Lagonda and Waldorf Astoria Hotels & Resorts announced a new, four-year, global partnership, bringing two enduring icons of global luxury together to launch a new era of performance and hospitality. The two brands promise a season of unforgettable opportunities, bringing together impressive destinations, exceptional service and the world's most dynamic and beautiful luxury sports cars.
From exclusive guest access to Aston Martin's most recent cars, to bespoke drive and stay packages in some of the most sought-after destinations in the Waldorf Astoria portfolio, the collaboration combines the exceptional standards of sophistication and service that are at the heart of both brands. For example, the combination of Waldorf Astoria's legendary service with Aston Martin Lagonda's access to the world of iconic motorsport will bring a luxurious new angle to automotive events and activities.
Waldorf Astoria Driving Experiences
Beginning in 2019, Waldorf Astoria Driving Experience weekends will present hotel guests with a variety of Aston Martin's latest models to sample along carefully tailored routes. These bookable sessions will be led by Aston Martin's team of professional drivers, giving Waldorf Astoria guests an expertly curated opportunity to explore the unmatched performance, refined craftsmanship and exhilarating driving sensation delivery by Aston Martin.
Enjoy the Automotive Calendar in Style
Waldorf Astoria is proud to be the official hotel partner for Aston Martin Racing, currently enjoying a highly competitive debut season with the new Aston Martin Vantage GTE. Following the Vantage GTE's maiden victory at the 6 Hours of Shanghai in November, Aston Martin Racing promises more thrilling races to come. Waldorf Astoria will be offering its guests VIP hospitality at some of these fixtures, including the legendary 24 Hours of Le Mans in France (June 15 – 16, 2019). Guests will also be able to enjoy unique access to premium automotive events like the Pebble Beach Concours d'Elegance in California (August 18, 2019), as well as other leading international auto shows.
New Aston Martin Art of Living Driving Experiences
The Art of Living by Aston Martin program offers one-of-a-kind drive and stay packages, four of which will be hosted in Waldorf Astoria destinations across the globe during 2019. These events will pair the Waldorf Astoria's exceptional levels of accommodation and service with the unparalleled experience of an Aston Martin drive.