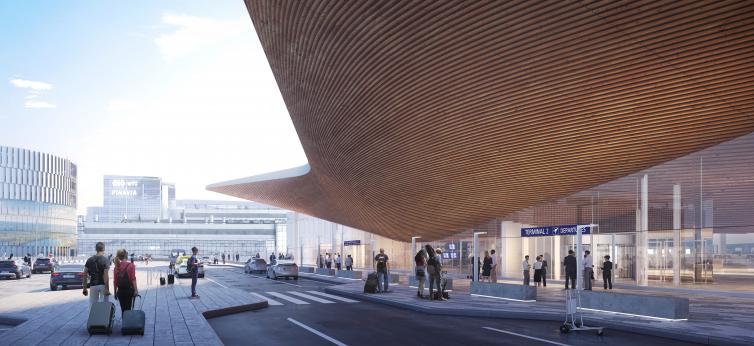 For Helsinki Airport, the year 2019 will be transformative. Within the next year, the airport will face more reformations and changes than ever before. In January, the front of Terminal 2 will become the focal point of expansion work. The construction work will affect traffic arrangements and the mobility of passengers.
In January, the most visible phase of the development programme at Helsinki Airport will begin when the airport's check-in and arrivals halls and public transport connections are revamped. At the beginning of 2020, a completely new area serving air passengers will be completed in front of Terminal 2.
Parking arrangements at at Helsinki Airportfor private vehicles revised first
After serving more than 7 million vehicles, the 30-year-old parking hall P2/P1 will be demolished to make room for the new, iconic entrance of Helsinki Airport.
The hall will be closed on 7 January, after which the customers of the airport can take their vehicles to parking halls P3 and P5 and the outdoor car park P4. The short term parking spaces in front of Terminals 1 and 2 will also be relocated to parking hall P3.
Finavia operates a free-of-charge shuttle bus between the parking areas and the terminal.
Finavia prepared for the demolition of the parking hall by expanding parking hall P5 in 2016. This resulted in 3,000 additional parking spaces at the airport.
The next major change will take place in the summer when the taxi and bus stops will be relocated and the traffic arrangements revised. Finavia will provide more information in 2019.
Finavia's investment at Helsinki Airport program in brief
Terminal floor area increased by 45% (103,000 m2), corresponding to an area the size of the Linnanmäki amusement park in Helsinki. The total area of the terminal in the early 2020s will be more than 250,000 m2, about ten times the size of the Finnish Parliament Houses.

More bridge gates for airplanes: 8 gates for wide-body aircraft (an increase of 100%), 4 gates for narrow-body aircraft (an increase of 15%)

Luggage handling capacity increased by 50%

Passport control capacity increased by 50%

Renovated apron area (aircraft parking areas and taxiways) amounts to 450,000 m2, corresponding to an area of around 90 football fields.

Expansion of parking hall P5 (3,000 parking spaces) and a new parking hall (1,800 parking spaces)

A multimodal travel centre, linking together different modes of transport

Finavia's investment: about EUR 1 billion

Employment impact of the investment programme during construction 14,000 person-years

Growth of air traffic creates 5,000 new permanent jobs