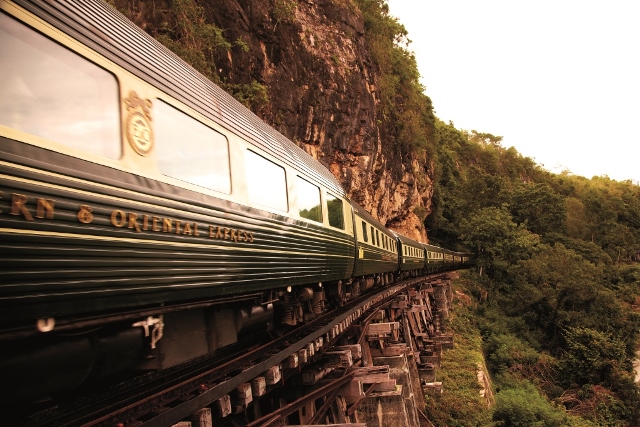 Eastern & Oriental Express today launches a series of 'pop-up' culinary collaborations for 2019 with highly acclaimed international chefs Janice Wong, Luke Mangan, Didier Corlou and Ian Kittichai.
A CULINARY JOURNEY THROUGH ASIA
The chefs are invited to bring their signature style to the train and in partnership with the train's executive chef Yannis Martineau, will create extraordinary taste sensations as the train weaves through South East Asia.
EDIBLE ART BY JANICE WONG
On 5th February 2019, Singaporean Pastry Chef, Janice Wong brings her passion for desserts and culinary art to the rails. The three-night journey from Bangkok to Singapore is set to transform the train into a haven for pastry lovers. Playing with a multitude of colours, textures and flavours, Wong invites guests to join her in the world of 'edible art' during a chocolate painting workshop.
As a visionary chef, Wong has received worldwide recognition for her cutting-edge creations and never-ending passion for culinary art. Wong launched her eponymous sweet concept, JANICE WONG in 2014 with outlets in Singapore, Tokyo and Macau.
A GASTRONOMIC ADVENTURE WITH LUKE MANGAN
A leading figure on the Australian and international food scenes, Luke Mangan owns and operates 19 restaurants worldwide. On 1st March 2019, the gastronomic adventure starts in Singapore with Mangan accompanying guests into the local food markets for a culinary tour and a chance to sample street food before boarding the train for a two-night journey to Bangkok. Whilst on board, Mangan will also give a talk about his cuisine and career.
EAST MEETS WEST WITH DIDIER CORLOU
Departing on 2nd September 2019, the French chef Didier Corlou, with signature restaurants La Verticale, Madame Hien and Porte d'Annam in Hanoi, blends the best of Vietnamese and French cuisine. Chef Didier will serve up a 'four-hand' dinner, a signature afternoon tea, as well as an intimate 'Spice Atelier' demonstrating his thirty years of culinary expertise and his passion for mixing the flavours of East and West.
STEPPING ABOARD WITH IAN KITTICHAI
On 8th October 2019, Thailand's first international 'celebrity chef' Ian Kittichai will host his signature dinner on the train. From street food to haute cuisine in his acclaimed restaurants, Kittichai draws on his humble beginnings to create authentic Thai dishes that celebrate traditional Thai flavours and ingredients with a contemporary spin . As part of the trip, Ian will go back to his roots and take guests on a guided tour of the local food market at Kanchanaburi, Thailand before cooking up a storm in the train's kitchen.
Ian has restaurants in New York, Singapore and Bangkok – including the award-winning Issaya Siamese Club. Additionally he is a published author of Thai cookery books and strives to show his diners that there is more to Thai food than a simple Pad Thai.
WELCOMING OLD FRIENDS AND NEW
Chef Yannis says, "I am looking forward to welcoming our guest chefs aboard the Eastern & Oriental Express next year; it is always a pleasure to share in the art of gastronomy with chefs from around the world to create one of a kind culinary moment for our guests."
The ultimate in slow travel, the iconic green and gold carriages of Eastern & Oriental Express transport guests away from the fast pace of everyday life for an adventure on the rails. Journeying through some of the world's most untouched destinations, guests disembark for daily immersive excursions r sit back and relax in the comfort of their luxury cabin or the open-air observation car as the scenery changes around them.