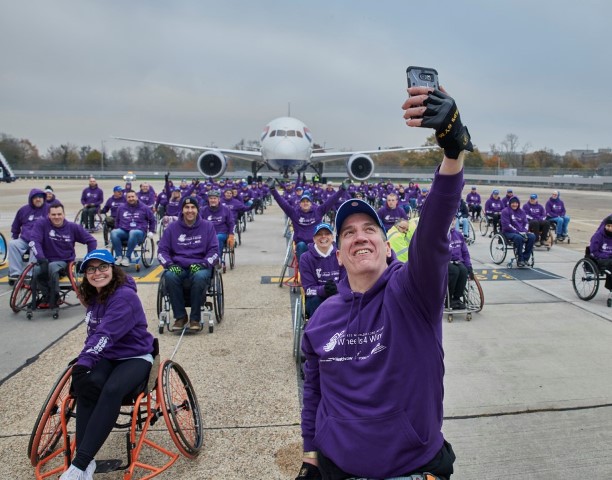 On Friday evening, Heathrow hosted a Guinness World Records® official attempt in support of Aerobility's mission to help people with disabilities participate in aviation. The airport's 'Wheels4Wings' event saw a team of 100 people in wheelchairs pull a 127.6 tonne 787-9 Boeing Dreamliner over 100 metres, beating the previous record of 67 tonnes held by a Belgian team.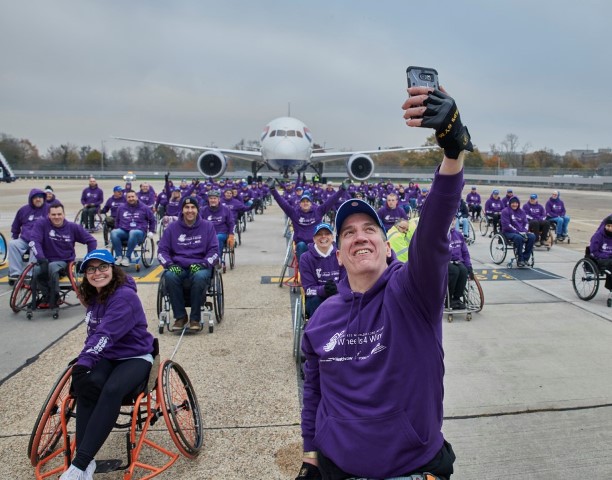 Money raised from this event will go towards registered charity Aerobility's programmes, helping people with disabilities participate in aviation. Aerobility provides 'experience of a lifetime' trial flying lessons for as many terminally ill and disabled people as possible. It also provides subsidised flying days for other disability charities and at-cost instruction and qualification flight training to disabled people.
Participants in today's fundraising event included security officers, volunteers and operational staff from across Heathrow. All have benefitted from the airport's newly established Dignity and Care training programme, focused on improving the journeys of passengers with hidden and visible disabilities.
The event today also celebrates Heathrow's new mandatory process for airlines, which will see passengers arriving at the airport automatically reunited with their personal wheelchairs at the entrance to the aircraft, when they descend.
The Wheels4Wings event is being held during a year of rapid changes for Heathrow in which investments of £23 million were made in new equipment, resources and technology to improve service for people with disabilities. The airport also introduced innovations like a distinctive lanyard for passengers with hidden disabilities.
The airport's regulator, the Civil Aviation Authority, acknowledged the significant steps Heathrow has taken to improve its service for people with disabilities. With further focus in the area still being applied, the airport is currently ranked 'good' in its services and handling offered.