Four Seasons Resort Costa Rica at Peninsula Papagayo announces the debut of new and reimagined spaces and amenities that enhance the Resort's USD 35 million renovation from December 2017. This collection of enhancements from the renowned Meyer Davis design firm will create new experiences of unveiling discovery through a new signature steakhouse with a creative smoked concept, re-imagined spa, new private concierge lounge, transformed fitness and wellness centre and new breakfast buffet and juice bar.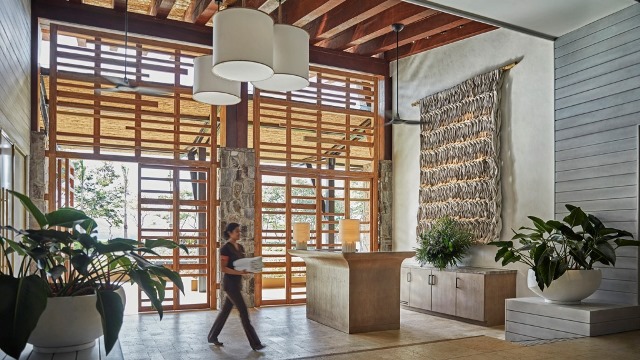 Four Seasons Resort Costa Rica enhancements include:
Nemare Restaurant (opening November 20, 2018) – As the Resort's new signature Latin steakhouse, Nemare Restaurant will offer a sophisticated and creative culinary experience from Chef Gerardo Astorga at the newly re-imagined Peninsula Papagayo golf clubhouse, which overlooks the Arnold Palmer Signature course. The Nemare name and local-infused dining concept is drawn from the Chorotega language's word for "smoke," which is celebrated across the menu with craft cocktails and smoke-infused dishes. Local dry-aged steaks will include a 45-day sabanero steak and USDA imported steaks include filet mignon and tomahawk chop; all steaks will be served with house-made infused salt seasoning include rosemary, malbec, bourbon and vanilla, and smoked paprika.
With its diverse menu, Nemare will feature many other savoury dishes ranging from roasted rack of lamb with cremini mushrooms and Heredia farm free-range chicken to seafood dishes including house smoked salmon with chervil mascarpone and grapefruit, steamed baby sea bass, and line-caught tuna with cherry tomato confit. Nemare will set a memorable dining scene with striking design from international design studio Denton House that pairs rustic and geometric shapes with rich materials including teak, leather and stone to offer a modern, cosmopolitan take on Costa Rican design traditions. The restaurant will offer indoor and terrace dining and feature an elegant centrepiece bar.
The Spa – The re-imagined Spa offers a serene wellness experience from the moment of arrival, which features a lush moss and illuminated lanterns. A neutral colour palette and rich natural textures including wood and stone extend the tranquility across key spaces including a new pre-treatment relaxation lounge and post-treatment indoor cabanas; elevated men's and women's locker rooms with new steam rooms, private showers and an outdoor terrace with hot and cool hydrotherapy pools; 18 spa treatment rooms with features including waterfall showers, private sauna and steam rooms, whirlpool tubs and ocean views; a special hammam room for unique Turkish bath experiences; and new Ayurvedic and sound healing spa treatments including a two-hour Traditional Hammam Ritual, 90-minute Sense of India Ritual and 60-minute or 90-minute Abhyanga Massage.
Fitness and Wellness Centre – The revitalised fitness and wellness centre offers a new design with state-of-the-art Technogym equipment and enhanced exterior space for ocean-view yoga and spin classes framed by the surrounding tropical landscape. New fitness classes include Tibetan Bowl Meditation, Barre Sculpt, TheraBand, Pilates Stability Ball, Cardio Dance, Qi Gong, Yoga Wheel, Yoga Detox, among others.
Private Concierge Lounge – A stunning new private Concierge lounge features a vibrant moss art wall that weaves in Peninsula Papagayo's lush landscape and interactive screens showcasing the many activities and explorations at the Resort. A Papagayo Explorers Club guide will be available daily to assist guests in planning their next excursion within the peninsula's 1,400 acres (570 hectares) in choosing from more than 25 only-here ocean, land, sky and cultural adventures.
Bahia Breakfast Buffet and JUGOS Juice Bar – The Resort's signature Bahia restaurant now offers a new breakfast buffet and juice bar featuring breakfast favourites and refreshing seasonal juices and smoothies. New breakfast dishes include made-to-order omelets, house-made chia-infused yogurts, freshly baked pastries, tropical fruits and local Costa Rican specialties. The Resort's emphasis on health and wellness is highlighted in JUGOS juice bar menu including Poquito Picante (jalapeño, celery, kale, spinach, cucumber, parsley and lemon), Mañanita Saludable (celery, carrot, spinach, lime and parsley), Ponche Frutero (kiwi, mango, watermelon, tangerine and grapefruit), Forever Young (apple, coconut water, ginger, pineapple and spinach), Guanacaste Fit smoothie (yogurt, almond butter, blueberries, pineapple and kale), and Sea Breath smoothie (kale, spinach, probiotics, spirulina, ginger, mint, blueberries, strawberries, banana and apple juice).
In addition to these Four Seasons Resort Costa Rica enhancements, the Resort will complete construction of a brand-new collection of oceanfront residences – Four Seasons Private Residences Prieta Bay – in early 2020. First announced in December 2017 as part of Peninsula Papagayo's more than USD 100 million community-wide transformation, this exclusive enclave of 20 wholly-owned, custom eco-luxury three, four and five bedroom villas sit on 17 acres (7 hectares) of prime oceanfront real estate adjacent to Four Seasons Resort Costa Rica. A private path will connect the residences to the Resort, as well as to a members-only beach club and two nearby beaches. Ranging from USD 3.9 million to USD 10.75 million, Four Seasons Private Residences Prieta Bay is the peninsula's first new residential development in more than a decade.