With 2018 marking 10 years of luxury expedition cruising for Silversea and its guests, the industry-leading cruise line takes the opportunity to highlight an array of polar expedition itineraries for summer 2019 and winter 2019/2020. The voyages will enable guests to travel deeper into the otherworldly landscapes of both Polar Regions, in ultimate comfort, as they journey closer to the authentic beauty of the world.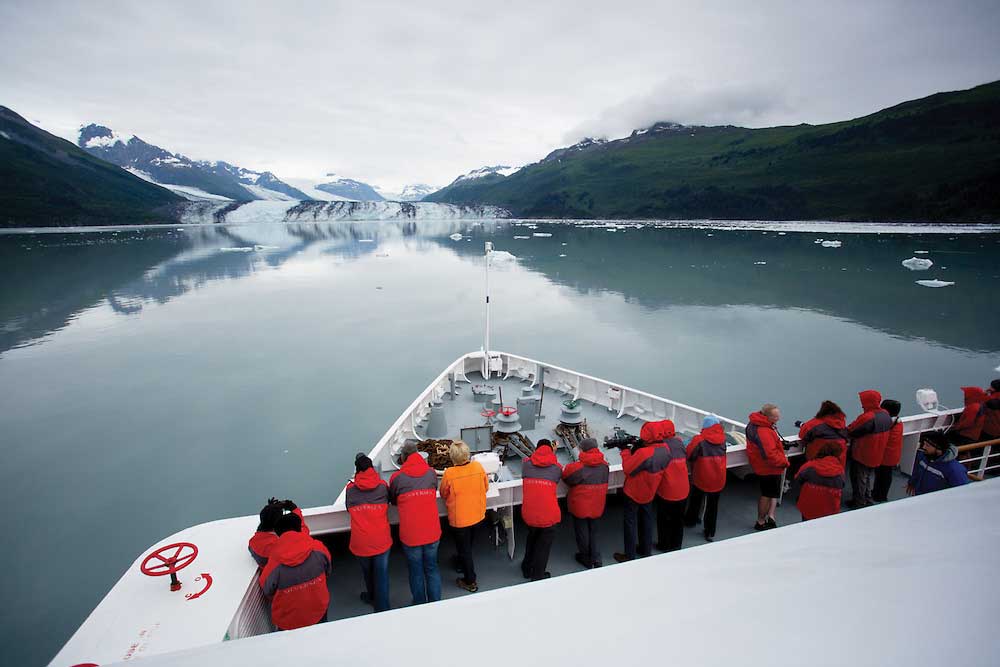 ARCTIC — SUMMER 2019
In this beautiful realm of the polar bear, voyages aboard Silver Cloud and Silver Explorer will provide excellent opportunities for guests to witness destination-specific wildlife, unspoiled landscapes and rarely seen cultures on 11 carefully crafted itineraries. Among the highlights are:
The rarely visited volcanic island of Jan Mayen, a haven for humpback and minke whales who feed in its waters, is among the attractions of two 14-day Silver Cloud voyages, departing June 18 and July 22. The first sails from Reykjavik to Tromsø, while the second follows the reverse course of the former. Both voyages explore a host of bucket-list destinations in Iceland and Svalbard, Norway.
Isolated Bear Island in the Svalbard archipelago, a nature reserve of steep cliffs and some of the largest bird colonies in the northern hemisphere, offers opportunities for guests to spot puffins, guillemots, black-legged kittiwakes, and other remarkable seabirds. A pair of 10-day voyages aboard Silver Cloud, departing July 2 and 12, will incorporate stops in this spectacular destination as they focus on Norway's extraordinary Svalbard region, with its stunning fjords and glaciers. Guests also stand to witness amazing wildlife in Svalbard.
A circumnavigation of Iceland will reveal a spectrum of natural wonders. From the geological playground around Lake Mývatn to a glacial lagoon and recent volcanic eruptions, all can be enjoyed, and more, when Silver Cloud departs Reykjavik on August 5 on a 9-day roundtrip exploration of this breathtaking island nation that sits near the top of the world.
Silversea's first crossing of the Northeast Passage — a legendary sea route through the Arctic Circle, along the coastline of Asia and Europe. The voyage departs August 10 from Nome for a 25-day journey to Tromsø aboard Silver Explorer. This unique itinerary encompasses the UNESCO World Heritage Site of Wrangel Island, where polar bears and walrus roam and migratory birds nest; Champ Island, known for its otherworldly landscape; Tikhaya Bay's Rubini Rock, with its stunning basalt columns; the archipelago of Severnaya Zemlya, famous for its impressive fjords and majestic glaciers; and the northernmost archipelago in the arctic, Franz Josef Land, with its historically important sites.
The route of the Norse in their explorations of Greenland will be traced by a pair of expeditions: Silver Cloud's 12-day voyage between Reykjavik and Kangerlussuaq will depart August 14, while Silver Explorer's 15-day sailing from Reykjavik to St. John's will depart September 20. These history-focused itineraries also offer opportunities to spot whales, witness massive glaciers and be awed by dramatic landscapes.
Explorer John Franklin's ill-fated search for the Northwest Passage is at the heart of Silver Cloud's August 26, roundtrip sailing from Kangerlussuaq. This 16-day Explorer's Collection voyage is designed for history buffs with an interest in the great age of polar exploration, as well as those who appreciate untouched scenery, majestic fjords and exceptional wildlife.
The world's longest fjord, Scoresby Sund, is among the highlights of Silver Explorer's September 5 expedition from Tromsø to Reykjavik. The 15-day adventure weaves together the glacial treasures of the Svalbard Archipelago with the delights of isolated East Greenland.
The possibility of witnessing the northern lights is offered aboard Silver Cloud's sailing from Kangerlussuaq to Quebec, departing September 11. The 14-day journey is timed to optimize guests' chances of glimpsing this spellbinding celestial phenomenon, along with other wonders of nature.
Arctic Air Offer
An exclusive Arctic air promotion is now available on new bookings through November 30, 2018. The savings program includes free economy roundtrip air, or reduced business-class air, for flights from select U.S. and Canadian gateways, plus free transfers between airport and ship.
ANTARCTICA — WINTER 2019/2020
Silver Cloud and Silver Explorer will also explore Antarctica, with 14 inspired itineraries sailing mostly from December 2019 through February 2020. Each is designed to optimize the chance for up-close encounters with sunbathing seals, frolicking penguins and whales emerging from the frigid waters of this untouched paradise. Following is a snapshot of the highlights:
A trio of new extended 12-day voyages to Antarctica will be operated by Silver Explorer. With departures on December 5, January 4 and February 21, the ship will sail roundtrip from Ushuaia for Antarctic Peninsula and the South Shetland Islands.
An exceptional new 16-day sailing from Buenos Aires to Ushuaia kicks off Silver Cloud's Antarctic season early, departing on November 24, 2019. The ship will visit Puerto Madryn, the Falkland Islands, Elephant Island, Antarctic Peninsula and the South Shetland Islands.
Five of the ever-popular 10-day Antarctic explorations, sailing roundtrip from Ushuaia, will be offered aboard Silver Cloud, with departures on December 10, January 19 and 29, and February 8 and 18. Destinations include the Antarctic Peninsula and the South Shetland Islands.
Both Christmas and the New Year can be celebrated amid the Earth's ultimate winter wonderland on Silver Explorer's 18-day voyage to Antarctica, the Falkland Islands, South Georgia and more, sailing roundtrip from Ushuaia on December 17, while Silver Cloud's shorter 15-day holiday sailing to Antarctica, the Falkland Islands, and more, departs December 20.
The Falkland Islands and South Georgia will be the highlight of an 18-day voyage to Antarctica aboard Silver Explorer, sailing roundtrip from Ushuaia from February 3. Silver Cloud's 15-day roundtrip voyage to Antarctica from Ushuaia will depart January 4 and will also feature a call in South Georgia.
Antarctica – All-Inclusive Package
An all-inclusive Antarctica package is now available on new bookings through November 30, 2018. The value-rich program includes free economy roundtrip air or business-class air upgrade for $1,499 each way for flights from select U.S. and Canadian gateways; free economy roundtrip air between Buenos Aires/Santiago and Ushuaia; free one-night, pre-cruise hotel stay; and free transfers between airport, hotel and ship.
Specialist experts lead immersive shore excursion for guests from each of Silversea's expedition ship. These passionate and knowledgeable professionals offer informative lectures, discussions and recaps on board, in addition to guiding Zodiac® explorations and leading hikes and nature walks ashore — all of which are included in the price.
Aboard Silver Cloud and Silver Explorer, guests enjoy ocean-view suites, gourmet cuisine, the personalized service of a butler, and a generous selection of all-inclusive shipboard amenities, including complimentary beverages, wines and spirits served throughout the ship, a stocked in-suite beverage cabinet, and unlimited complimentary Wi-Fi.