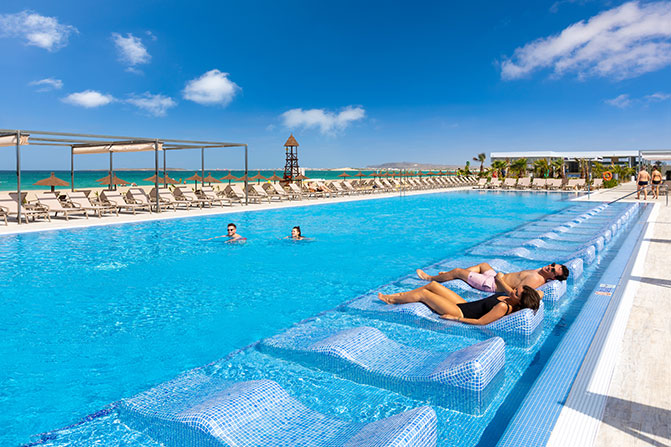 RIU Hotels has just opened the Riu Palace Boavista, which is its fifth hotel in Cape Verde and its third on the island of Boa Vista, following a total investment of 70 million euros. The five-star hotel is located by Praia das Dunas and it offers the exclusive all-inclusive 24-hour service of RIU together with the sophistication of the elegant Riu Palace range. The hotel, which has 505 rooms, three pools and a broad range of cuisine on offer, opens ten years after the launch of Riu Karamboa, the chain's first hotel on the island.
The Riu Palace Boavista's 505 rooms are fully-equipped with facilities including free WiFi, a complete minibar and drinks dispenser. They are all decorated in a style that combines the classic sophistication of the Riu Palace line with the tranquility and simplicity of furniture with clean lines and blue and earth tones. The hotel also offers more than one hundred swim-up double rooms, an exclusive category of rooms with private pools.
As with all hotels in the Riu Palace range, the range of cuisine available at the Riu Palace Boavista is designed to satisfy the most demanding tastes and needs. The main restaurant, 'Africa', offers a wide and varied live-cooking buffet, and it is joined by the fusion cuisine restaurant, 'Krystal', the Japanese specialities available at 'Mitsuki' and 'Sai Rei' restaurant, which serves up classic steakhouse dishes in the evenings.
As for bars, the Riu Palace Boavista has a great variety to offer: from two swim-up bars, 'Grogue' and 'Pontchi', to the 24-hour 'Sports Bar', as well as the elegant lounge bar and lobby bar, 'Kizomba' and 'Muscat'. This new RIU hotel also has a classic feature of the new and renovated Riu Palace hotels: the coffee shop and patisserie, 'Capuchino'.
The new hotel has a space for art in Riu Art, a club for kids to enjoy in RiuLand, as well as a complete gym and the extensive range of beauty and wellbeing treatments of the new Renova Spa. Guests can also enjoy Pacha nightclub, located in the neighbouring Riu Karamboa.