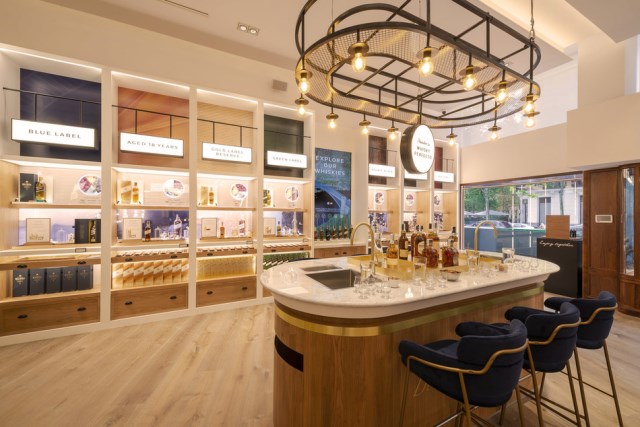 Johnnie Walker today opens its first flagship experiential retail store in Madrid. The exciting new space, which promises to become a leading destination for Scotch lovers and whisky novices alike, plays host to a wide variety of immersive experiences, including whisky appreciation classes and tastings designed to help people explore the world of Johnnie Walker and Scotch.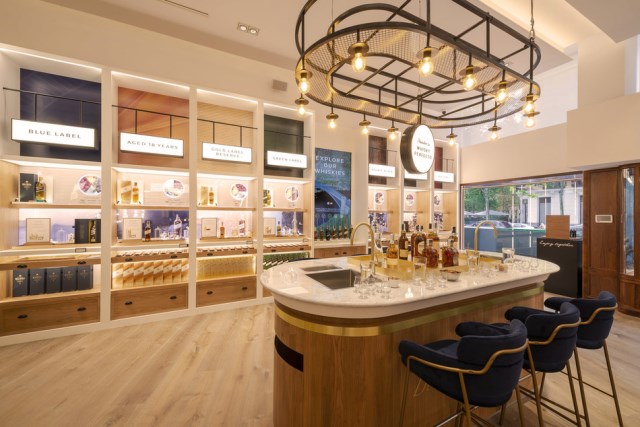 Visitors will be able to choose from a special collection of Johnnie Walker whiskies, purchase some of the rarest and most exceptional single malts from which Johnnie Walker is crafted and explore limited edition curated collaborations exclusive to the new store.
Among the experiences on offer is an interactive hosting area where guests can discover the craft of cocktail making, a tasting table where they can deep dive into the flavours that lie at the heart of Johnnie Walker and a personalisation station where people can find unique gifts and add bespoke engravings and labels to purchases.
The cutting-edge store offers virtual experiences such as Discover Scotland through Johnnie Walker allowing visitors to discover Johnnie Walker by taking a tour to the four corners of Scotland, discovering the breathtaking Highlands, the intrigue of the Islands, the lush Lowlands and the secrets of Speyside, culminating in a taste of Johnnie Walker.
There will also be seasonal offerings, with a Johnnie Walker cocktail-expert in-store this festive season to demonstrate how you can impress guests with a pairing of frozen Johnnie Walker Gold Label Reserve and a taste of hand-made, award-winning Scottish chocolate as well as show the cocktails and techniques that will turn your party drinks into showstoppers.
John Williams, Johnnie Walker Global Brand Director, said: "We're always looking for new ways to surprise and engage our customers and this kind of experiential Johnnie Walker flagship store does just that. It also adds a sense of fun and discovery to shopping and is a whole new way of experiencing the diversity and rich heritage of Johnnie Walker."
The launch of the new retail experience follows the announcement of a £150 million investment in Scotch whisky tourism by Diageo throughout Scotland – including plans for the opening of a new state-of-the-art Johnnie Walkervisitor experience in Edinburgh, as part of the biggest concerted programme ever seen in Scotland's whisky tourism sector and is the latest announcement from Johnnie Walker as the brand prepares to celebrate its 200th anniversary year in 2020.