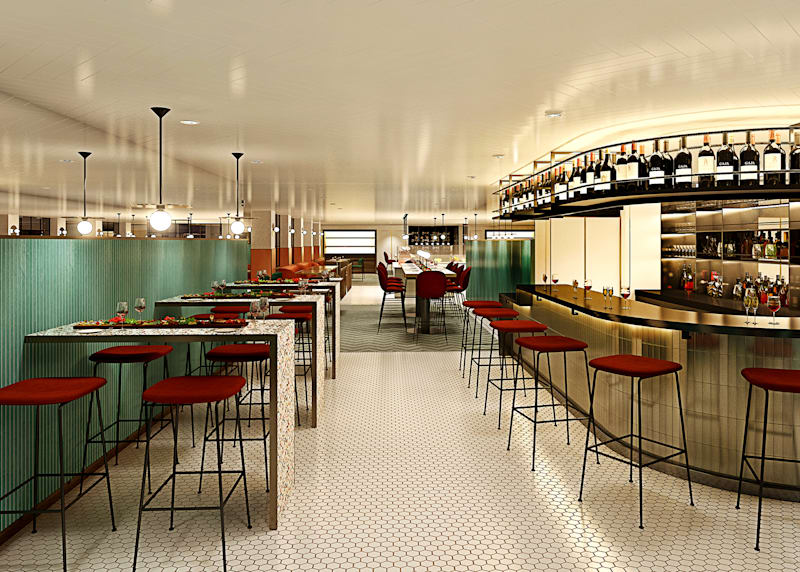 With more than 20 food choices on board Virgin Voyages' first ship, Scarlet Lady, there's something for all tastes. And the best part is they've ditched the traditional upcharges imposed when dining in speciality restaurants at sea – all the food options on board are made to order and included in the cost of your voyage.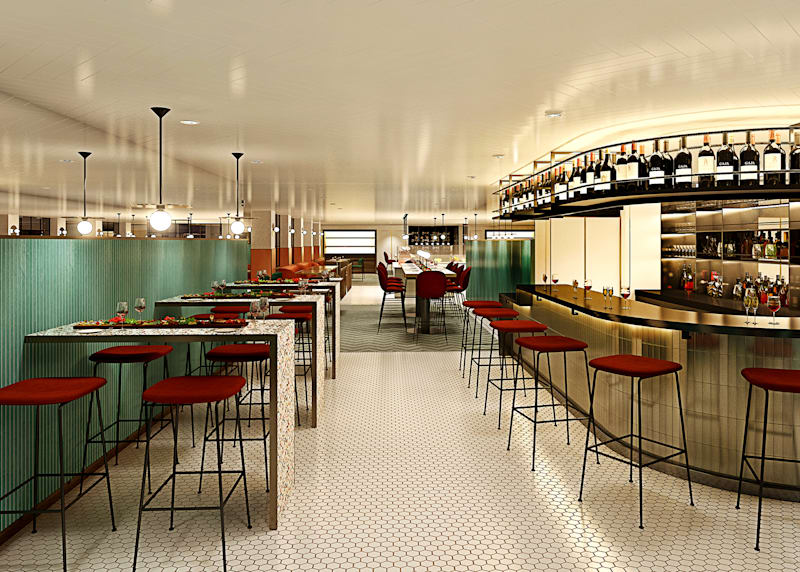 In fact, Virgin Voyages has completely thrown out the traditional cruise dining rule book. There'll be no buffet, no main dining room, no forced formal wear, no assigned seating, and no set dining times. Instead you'll find more choice, and more opportunity to grab some food, with restaurant doors open until well into the night and, in some cases, the early hours of the morning.
From experimental and haute cuisine to healthy, quick bite options, the on board eateries will give sailors the opportunity to discover something new or enjoy an old favourite. Sailors can dine at a table or opt to enjoy their meal at the bar, with nearly all restaurants on board featuring a bar. Each restaurant will be helmed by a leading chef who leads their kitchen with passion and artfulness. With a made-to-order philosophy around food, Virgin Voyages pledges to never have to sacrifice quality for a quick bite.
So what can you expect from the food options on board?
WAKE Designed by Roman and Williams, Wake offers sailors a dramatic view of the ship's wake. Serving a theatrical take on steak and seafood, Wake is the most glamorous restaurant on the ship, with a dramatic grand staircase entryway.
RAZZLE DAZZLE With an interior scheme that nods to the namesake, the bold camouflaging of ships from WWI using patterns of black and white paint, Razzle Dazzle was designed by Concrete Amsterdam. With vibrant and creative twists on vegetarian fare and a juice bar. The "nice" menu offers plant-based vegetarian and vegan dishes including must have muchies such as the Impossible Burger. The "naughty" side enables sailors to order meat "add-ons" and offers to spike their healthy smoothies with boozy shots. To live up to the boldness of its name, Razzle Dazzle will not simply brunch but rather Drag Brunch, where sailors are treated to a performance by the Scarlet Lady's resident drag performer and friends.
THE TEST KITCHEN Designed by Concrete Amsterdam and inspired by Escoffier's Ma Cuisine, this laboratory-like eatery is part cooking school and part restaurant, making it the ultimate place for discovery through cuisine with an atmosphere that is educational, experiential and social all in one. The chef-driven set menus are presented in the form of an ingredient list to Sailors who will discover how the chef combines the list of flavours throughout the course of the meal.
GEONBAE Geonbae, the equivalent of the expression bottoms up in Korean, is a Korean BBQ restaurant designed by Soft Room. Hosted by the loudest servers at sea, each meal will begin with a complimentary round of soju for the table and throughout the evening sailors are encouraged to take part in lively Korean drinking games.
PINK AGAVE An elevated Mexican restaurant designed by Tom Dixon, Pink Agave transports sailors to the vibrant streets of Mexico City through immersive void lighting. Offering a wide variety of Mexican specialties that inspire sailors to discover authentic Mexican flavors including tlayudas, memelas, sopes, tortas, esquites, and tamales.
EXTRA VIRGIN Extra Virgin is the ships trattoria serving regionally-inspired and approachable food, deeply rooted in Italian culinary traditions with handmade fresh pasta made daily. A meal begins with shared antipasti followed by approachable pasta-centric favorites.
DOCK Set in the ship's sun-dappled lounging area at the aft of the ship on deck seven, The Dock is a beach club-inspired space designed by Roman and Williams. Carts of Mediterranean small plates, salads, dips and mezzes provide perfect graving options throughout the day.
THE GALLEY Modeled on popular food halls where visitors can taste a cornucopia from different restaurants, The Galley will be the main space for the quick and casual meal throughout the day. The food hall will feature a mix of more than eight shops and food carts, each offering a unique concept with irresistible signature dishes that changes to suit the time of day. The Galley's concepts include a dedicated bakery and pastry shop, a panini shop, a burger grill, a taco shack, a sushi bar with bento boxes, a noodle bar, a soup and salad stand, and a 24-hour American diner.
THE PIZZA PLACE Sailors can choose from the classic menu, or allow them to design their very own bespoke pizza and pies.