NH Hotel Group is launching FASTPASS, combining three innovative services -Online Check-in, Choose Your Room and Online Check-out- that put give complete control over their stay in customers hands. With this programme, the Company leads the way once again in the use of technological innovation in the hotel sector, as the first European urban hotel chain to offer all three services at once.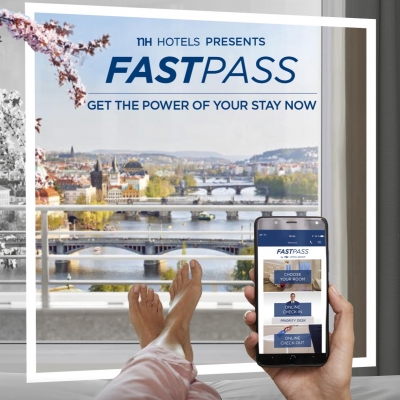 How does FASTPASS work?
48 hours before arriving at the hotel, the guest will receive an e-mail to access Online Check-in where the guest can provide all his or her details up to 12 noon on the arrival date, so that on arriving at the hotel all he or she has to do is pick up the room key. During the Online Check-in process, the guest will benefit from the Choose your room service which lets guests consult all the available rooms and choose the one best suited to their tastes and needs according to their own criteria (facing, views, bathroom, type of bed, etc.). From 6.00 pm on the day before departure, guests can pay for any expense incurred and complete Online Check-out and leave the hotel without having to go to reception.
According to the Company's estimates, after the first year of implementation of FASTPASS, more than 12,000 people will have left the hotel without having to check out at reception, saving 42,000 minutes which they can take advantage of to do much more enjoyable things than stand in a queue at the reception desk. Furthermore, the digitalization of check-in and check-out represents a great benefit for the environment in the reduction of paper, estimated at more than 24,000 sheets per year, which is the equivalent of 460Kg of CO2e.
As far as customer preferences are concerned, which will no doubt establish the trend in the Choose your room service, guests usually pick rooms on the higher floors, located on the corners and far from the lifts. Now, in addition to these general preferences, they will have many more factors to consider in choosing their room, such as views, the type of bed, the direction the room is facing or the bathroom.
FASTPASS will also be available through the NH Hotel Group app. For customers in the NH Rewards loyalty programme, it will be even easier to use FASTPASS services as their data will be stored and will not have to be re-entered.