Hyatt Hotels Corporation announced today the official opening of Andaz Capital Gate Abu Dhabi, turning the iconic 'Leaning Tower of Abu Dhabi' into the first Andaz branded hotel in the Middle East. Represented across the globe in destinations including London, New York, Tokyo and Shanghai, Hyatt's luxury lifestyle brand celebrates distinctively local culture and delivers an elevated experience that awakens the senses.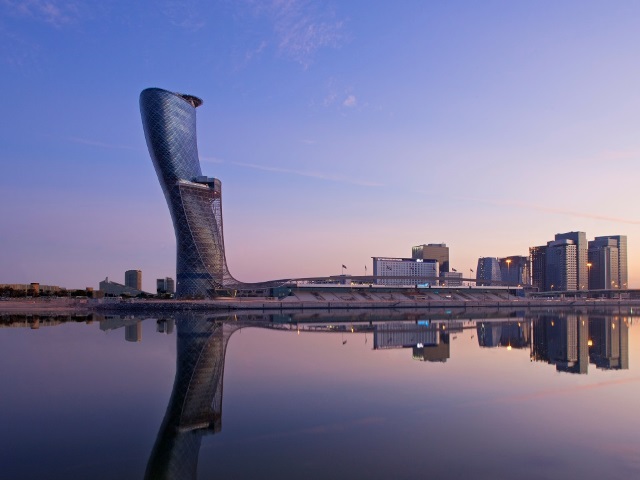 DESIGN
Andaz Capital Gate Abu Dhabi occupies floors 18 to 33 within the iconic Capital Gate building and is the world's furthest leaning hotel at an impressive 18-degree incline. Synonymous with the brand's intention to immerse guests in the local culture, the property takes guests on a journey through the United Arab Emirates' unique identity. Design elements are multi-layered and span various textures and techniques in order to represent both the country's modest beginnings and traditional elements, as well as the current ultra modern façade of the city.
At each touchpoint, guests can discover the stories of four cultural symbols appreciated by locals for generations, chosen for the power and respect they command within Emirati culture. These symbols include 'Mashrabiya', intricate wooden window adornments; 'Khatt', poetic Islamic calligraphy; 'Al Sadu', traditionally woven fabrics; and iconic Date Palms motifs.
ARTISTIC APPEAL
Upon entering Andaz Capital Gate Abu Dhabi, guests are greeted by an array of creative, thought-provoking masterpieces crafted by skilled local artists to introduce them to the local culture. The ground floor serves as a permanent art space for guests to explore throughout their stay, and within each guestroom features its own individual artwork to familiarize them with the region.
GUEST EXPERIENCE
All aspects of the 189 contemporary, luxurious guestrooms and suites have been designed for today's traveler and exude a sense of warm Arabian hospitality. Floor to ceiling glass paneled windows offer sweeping views of the city, and each guestroom is outfitted with specially curated amenties such as the hotel's bespoke Andaz Loungewear created by award winning locally-based designer Essa Walla. Walla was commissioned to develop an exclusive line of bold and colorful loungewear pieces intended to evoke Arabian flair. Guests can wear these pieces on property and have the option to purchase them as a memento from their visit.
The sense of creativity and local influence celebrated by the Andaz brand extends to each of the dining outlets situated within the property. The restaurant, 18 Degrees, offers diners the chance to savor delicacies from across the Mediterranean, using fresh, local produce. Additionally, The Lounge offers a more casual environment designed for both hotel guests and local residents alike with a menu of small, flavorful bites and refreshing beverages.
To inspire guests to explore like a local, elements of the city are woven into the property's Rayana Spa. Located on the 19th floor with expansive views of the vibrant city, the spa offers a rejuvenating array of treatments and amenities, including a suspended outdoor pool, whirlpool and fitness center. As guests relax poolside, they can enjoy a freshly prepared beverage and a healthy snack from the Pool Bar.