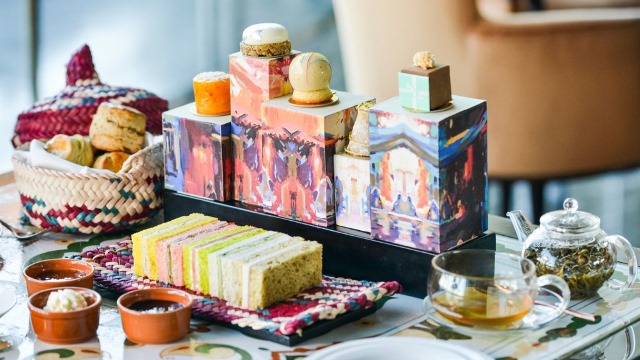 A cultural and culinary treat awaits art-lovers at Four Seasons Hotel Bahrain Bay, with the launch of the Hotel's new Souk Collection Afternoon Tea. Inspired by the vibrant local art scene, Four Seasons Hotel Bahrain Bay Chef Imad Boukly and Bahraini artist Abbas Almosawi along with local designer and founder of Annada Nada AlAlawi have teamed up to produce a delightful afternoon treat for the senses.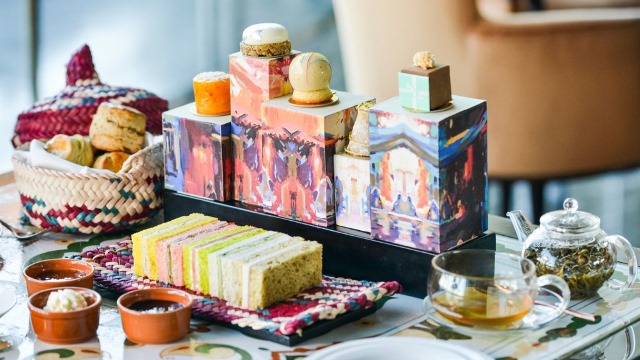 Guests will embark on a journey of artistic discovery that captures the flavours, aromas and colourful ambience of a traditional Bahraini souk. An assortment of sandwiches, quiche and pastry items will be served as part of the specially-themed afternoon tea, together with freshly-baked scones and a tempting array of sweets. Guests can admire a carefully curated collection of paintings from talented local artists as they enjoy their tea, creating a one-of-a-kind cultural experience.
The Souk Collection Afternoon Tea is hosted in the Bay View Lounge, the Hotel's immaculately styled lobby lounge. Rows of olive trees add a splash of colour to the bright and airy space, which features large, floor-to-ceiling windows. In addition to the artwork on show, guests can take in sweeping panoramic views across the calm waters of Bahrain Bay, framed by Manama's glittering skyline.
Four Seasons Hotel Bahrain Bay can be considered a work of art in its own right, with its striking architecture soaring 68 storeys above Bahrain Bay on its own private island. More than 3,500 artworks are tastefully distributed around the Hotel, with a strong emphasis on highlighting the work of local Bahraini artists.
This autumn, the Hotel will also give guests an opportunity to make their mark on canvas with the Four Seasons Art at the Bay program. A series of themed painting classes will focus on how to recreate masterpieces by some of the world's most celebrated artists, including Vincent Van Gogh, Claude Monet and Gustav Klimt.
Guests can enjoy the new Souk Collection Afternoon Tea at Four Seasons Hotel Bahrain Bay seven days a week, from midday until 9:00 pm, for BHD 14 per person.