Autograph Collection Hotels today announced the much-anticipated opening of Bankside, a new design-forward hotel on the south bank of the River Thames. Situated in the heart of one of London's most dynamic neighbourhoods, just a stone's throw away from Tate Modern, British Film Institute and Borough Market, the 161-room boutique hotel joins the diverse and dynamic portfolio of more than 150 Autograph Collection Hotels around the world that are independent, one-of-a-kind and champion values of vision, design and craft.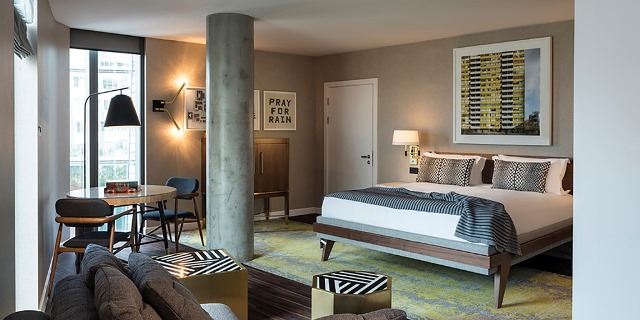 In addition to showcasing the vibrant locale through the hotel's inspired interiors, Bankside features a neighbourhood restaurant and bar. Head Chef Lee Streeton, formerly of 45 Jermyn Street, will lead Art|Yard, an informal design-focused all-day restaurant with its menu celebrating seasonal British produce with European influences, alongside classic cocktails, local beers and an unexpected selection of wines.
Reflecting the hotel's commitment to the creative area in which it resides, Bankside has partnered with Contemporary Collective to run a rolling Maker in Residence programme. This permanent space offers emerging artists the opportunity to showcase and create work just a stone's throw from the Tate Modern. Located on the ground floor of the hotel with direct access onto a communal courtyard space, the Makers hub will be a dynamic new addition to the vibrant Bankside art scene. A schedule of rotating makers, a series of talks, previews and events throughout the year will offer resident guests and passers-by new experiences with each visit.
The first Makers in Residence will be London-based urban landscape painters Luke M Walker and Andrea Tyrimos, who are collaborating for the first time. Walker, a contemporary artist and interior spatial designer, holds a Master of Arts from City and Guilds of London Art School while street art inspired Tyrimos graduated from Central Saint Martins with a B.A. in Fine Art. Both use art to raise awareness about environmental issues.
Contemporary Collective, who will manage and curate the space, are an emerging online gallery founded in 2006 by Elinor Olisa and Isobel Beauchamp with a mission to champion the careers of emerging and newly established artists internationally, allowing collectors inside access into the most promising talent that exists today. Bankside has also commissioned three pieces from Helen Gorrill, a portrait artist represented by The Contemporary Collective, to create three portraits of iconic people who have had a connection to the area.
Opening rates at Bankside start from £290 on a B&B basis and include VAT.