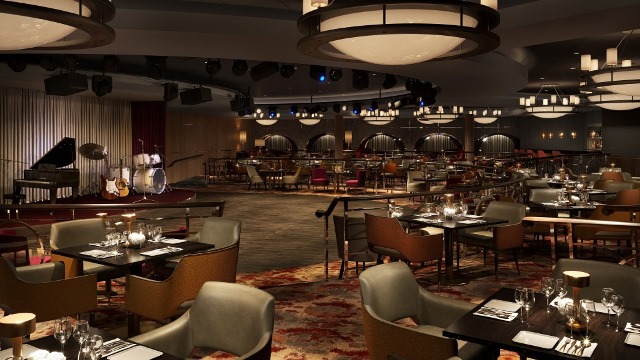 Today, Crystal Cruises announced it would debut a new Supper Club experience on Crystal Serenity when she emerges from dry dock on November 10. The Stardust Supper Club combines the impeccable culinary experience and style for which Crystal is known with the glamorous vibe found in dining concepts of a different era. Set in the ship's Stardust Club, the supper club will be offered on the first and final "Black Tie Optional" evenings of voyages beginning with cruises of eight days or more.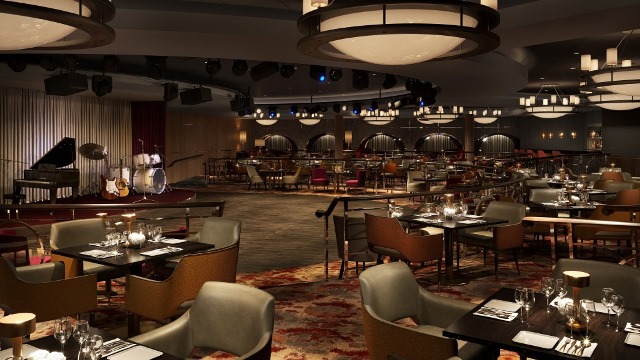 Guests will enjoy a four-course menu of select Waterside favorites as they dine to performances by Crystal Serenity's Show Band and featured vocalists. In between performances, musicians will provide non-stop music throughout dinner, while the ship's Ballroom Dance Quartet takes to the floor to perform a couple of spotlight dances including one during dessert and coffee service where guests can join in on the dancing.
The Stardust Supper Club will accommodate up to 108 guests per evening, with reservations available upon embarkation with the restaurant manager aboard the ship. At a later date, reservations can be made via Crystal's Priority Check-in and Planning Center (PCPC). Seating will begin at 6:30 p.m. giving guests ample time to dine and dance before the night's 9:15 production show begins in the Galaxy Lounge.
Crystal Serenity will sail from Lisbon to Fort Lauderdale on November 10 for her first voyage after completing her extensive redesign. With an aim to elevate the onboard guest experience by expanding the space and choices that have been a part of the company's credo since its inception, the award-winning ship is seeing a transformation of accommodations, dining options, technological advancements and public spaces.
Part of her transformation includes a new look for the Stardust Club – a long favored central hub for bridge groups, enrichment speakers and nighttime dancing and drinks. A new dance floor, lighting, bar finishes, and refreshed décor is featured, as well as several enhancements behind the scenes to the overall entertainment experience.
Additionally, during the dry dock the Crystal entertainment team is installing a new Broadway-style production show called Crystal on Broadway, The Show featuring songs from the hit musicals Rent, Something Rotten! and West Side Story.
Open seating dining will debut aboard Crystal Serenity, allowing guests to dine at their leisure with whom and where they choose affording more flexibility for evening activities and entertainment. While the dining concept has evolved, the Michelin-style cuisine and exceptional service remain. The Crystal Dining Room will be transformed into Waterside, with an increased seating capacity with more tables for two and four, and new décor and finishes. Silk Road will be re-branded as Umi Uma & Sushi Bar and will continue to serve Nobu's famous signature dishes prepared by his trained and hand-picked chefs. Tastes will become Silk Kitchen & Bar serving Chinese comfort food; and Lido Café becomes The Marketplace in the daytime and Churrascaria, a Brazilian steakhouse, in the evening. Prego, Crystal's Italian restaurant, will continue to serve guest-favorite regional specialties of Italy.
The ship is also receiving 36 new Seabreeze Penthouses and two new Seabreeze Penthouse Suites effectively reducing the ship's capacity from 1,070 guests to 980 guests, while the number of crew on board remains the same.
Crystal Serenity's Palm Court, a favorite spot on board for gatherings of all sorts, will see a dramatic transformation with more intimate seating. The lounge will receive new finishes, carpeting and more tables for two including a combination of cocktail tables and chairs, dramatic wingback chairs with footstools, sofas and coffee tables. The stage will be removed and relocated in an "in-the-round" concept along with a new modernized bar area.
The ship's spacious enrichment facilities are also undergoing a redesign. The Computer [email protected] and adjoining classroom, as well as the multi-purpose Studio will receive new carpeting; seating and equipment, along with 70-inch TVs further enhancing the robust programming offered through Crystal's Creative Learning Institute and Crystal Visions Lecture Series.