The coffee will see Virgin Trains expand its range in the on board shop to include a flat white, and introduce a new freshly brewed filter blend in First Class. And the train operator is doing its bit to reduce the use of single-use plastics by offering a 20p discount to anyone who brings their own reusable cup.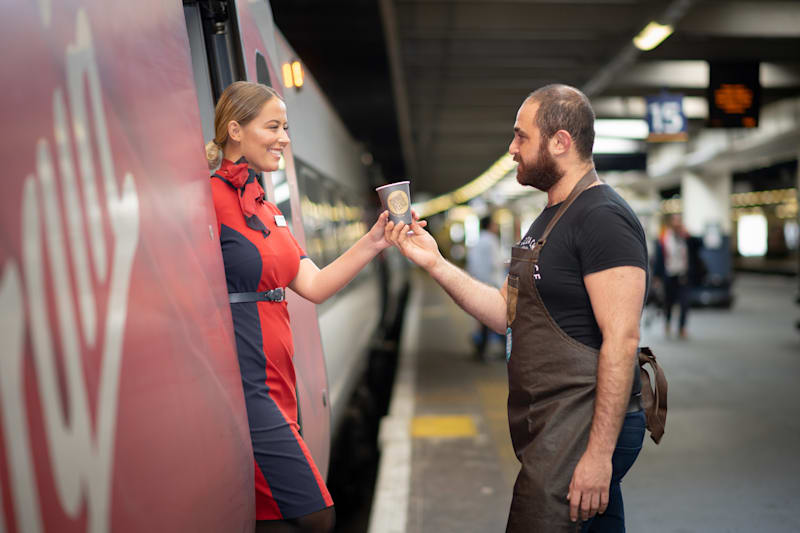 Launched in 2015 with a Virgin StartUp loan, Change Please puts 100 per cent of its profits towards reducing homelessness. They employ people without a place to live, provide full barista training, pay the Living Wage and support with housing, bank accounts and mental wellbeing.
The contract to supply coffee for Virgin Trains will enable Change Please to train more baristas, aiming to train 107 people each year as a result of the partnership. Virgin Trains will also work with Change Please to include successful trainees in their recruitment process, to offer them a chance to use their new skills in a job with Virgin Trains.
Over the last three years, Change Please has trained more than 84 people and expanded to 32 sites across London and Manchester. Their presence in Manchester will expand further with some profits from onboard coffee sales directed towards funding sites in the city.
Virgin Trains will use Change Please coffee to brew the one million cups it sells onboard each year, along with the countless cups poured in First Class. The beans are Rainforest Alliance certified and carefully selected by master roasters ad Virgin Trains to create a unique blend that has been taste-tested by Virgin Trains customers.
Virgin Trains is also encouraging people to report rough sleeping at stations on its route to Change Please, who will reach out and offer them support.