Sapphire Princess is enroute to Singapore from Southampton after the completion of her inaugural homeporting season in Europe this summer. Sapphire Princess embarked on the 38-day voyage on 21 October and will arrive in Singapore on 28 November. The sold-out cruise will visit 17 ports including Rome, Gibraltar, Athens, Malta, Petra, Dubai, Cochin, Colombo and scenic cruising along the Suez Canal.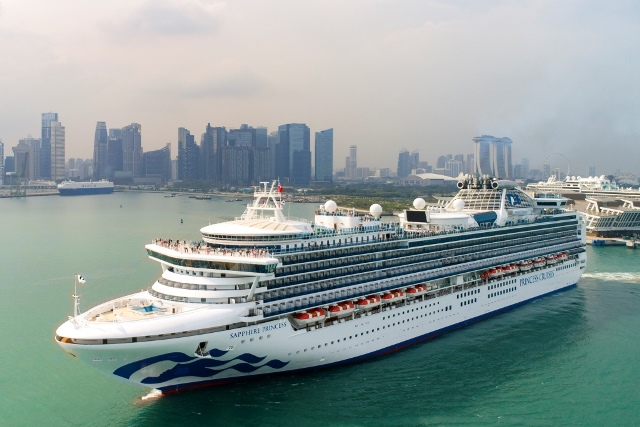 Homeporting in Singapore for her fifth season, Sapphire Princess will sail to Southeast Asian destinations on 3-to 13-day voyages. During this time, she will also embark on a Grand Asia voyage from Singapore to Shanghai over the Christmas and New Year period offering guests the chance to enjoy the festivities onboard from elegant festive menus to glamorous celebrations. Sapphire Princess will then return from Shanghai to Singapore in early January to continue sailing in the region until March 2019 after which she will return to Europe.
Diamond Princess, the sister ship to Sapphire Princess will arrive in Singapore from Japan for Christmas and New Year sailings from Singapore to Southeast Asian destinations. For the Christmas period, Diamond offers a 10-day roundtrip sailing from Singapore to Kota Kinabalu, Nha Trang, Ho Chi Minh City, Bangkok and Ko Samui. The New Year itinerary offers a 10-day sailing from Singapore to Bali, Port Klang, Penang (late night) and Phuket. Diamond Princess features the largest Japanese bath complex at sea at 8,800 sq ft in size, equipped with outdoor hydrotherapy pools, indoor heated pools, seated waterfall massage and sauna rooms.
"Bringing two ships to homeport in Singapore demonstrates our ongoing commitment to providing our guests with even more choice and opportunity to enjoy cruising in the region. With itineraries visiting top destinations and the newest innovations onboard including new Princess Luxury beds and award-winning culinary and entertainment experiences, guests can leave the stress behind and celebrate the festivities in style," said Farriek Tawfik, Director Southeast Asia, Princess Cruises.
"Our 'balloon drop' party at the atrium is always a big highlight with lots of fun, music and dancing for guests to welcome the New Year and create life-long memories. Bookings for this season are very healthy and the Grand Asia voyage from Shanghai to Singapore is almost sold out", added Mr. Tawfik.
Sapphire Princess had undergone dry dock in March this year before she sailed for Europe. Diamond Princess will also undergo a dry dock in Singapore before she returns to Japan in February, 2019. Princess Cruises continues to enhance its ships as part of its ongoing US$450 million enhancement programme. For both ships, guest accommodation has been equipped with the cruise line's new signature Princess Luxury Beds, which was developed in conjunction with a board certified Sleep Doctor, Dr Michael Breus, to provide guests with the ultimate sleep at sea.