Qatar Duty Free (QDF) is delighted to announce the opening of 'Believe in your Luck', Guerlain's first Mon Guerlain Eau de Toilette podium in the Middle East. The installation will include products from the new Mon Guerlain fragrance collection, as well as a station dedicated to the iconic Rouge G customisable lipstick collection.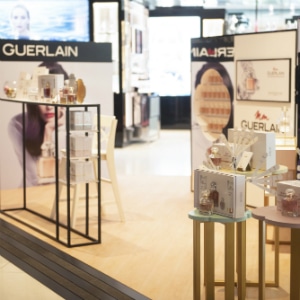 On the dedicated Rouge G station, passengers will be able to select one of 30 available shades of Rouge G lipstick and match it with their choice of case available from a selection of various prints and colours to create their own custom-made lipstick. At the Eau de Toilette area, customers will be able to directly interact with the brand, testing their luck for a chance to either win a gift or a sample. In addition, customers will be able to discover the raw materials of the Mon Guerlain Eau de Toilette perfume in vials, to better understand its unique composition.
Inspired by Angelina Jolie, Mon Guerlain is a tribute to today's femininity: strong, free and sensual. Expressing three facets of femininity, Mon Guerlain Eau de Parfum, Parfum Florale, and the newly-launched Eau de Toilette will be available for purchase at the Guerlain podium. The Rouge G collection is one of the Guerlain favourites at Qatar Duty Free, selling more than 1,500 pieces at QDF since the beginning of 2018. The podium will include a make-up area where customers can try out the variety of Rouge G shades for themselves before they make their purchase.
QDF boasts more than 90 elegant boutiques and luxury, high-end stores, as well as more than 30 restaurants and cafés covering an area of 40,000 square metres at HIA, providing travellers with a world-class shopping experience under one roof. Luxury brands also available at the five-star airport include Tiffany & Co., Gucci, Bulgari, Hermès, Burberry, Moncler, Rolex and Harrods. In addition, the award-winning duty free retailer regularly showcases podiums and pop-up stores including the Maison Christian Dior boutique, a TUMI Pop-up store, the L'Oréal Grand Hotel Podium and the Prada Voyage Podium.
Qatar Duty Free was recently awarded 'Airport Retailer of the Year' at the 2018 DFNI Global Awards. In addition, in April, the leading airport retailer was recognised at the PAX International Readership Awards, when Qatar Airways won 'Best In-Flight Duty Free Program' for the Middle East and Africa and was acknowledged as an industry leader for its outstanding in-flight duty free service, which is operated by Qatar Duty Free.
HIA the home of QDF, has already met a number of significant milestones in 2018, including being ranked fifth 'Best Airport in the World' and fourth 'Best Airport for Shopping' and fifth 'Best Airport for Dining' at the Skytrax World Airport Awards 2018. HIA is the only airport in the Middle East to be ranked in the world's top 10 airports of 2018. At the annual awards ceremony, HIA also took home the title of 'Best Airport in the Middle East' for the fourth year in a row, and 'Best Staff Service in the Middle East' for the third year in a row.