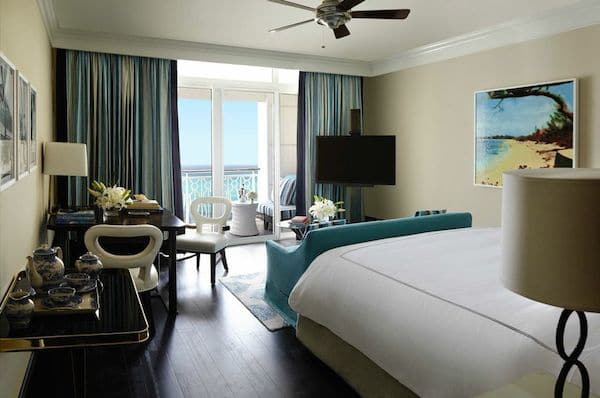 Rosewood Hotels & Resorts® has been appointed by AquaTerra Hotels and Resorts Development Corporation to manage Rosewood Hermana Mayor, which will open in 2023 as the brand's first property in the Philippines. The ultra-luxury resort, located on pristine and private Hermana Mayor island situated off the western coast of the main island of Luzon, will be an exciting addition to Rosewood's expanding Asia Pacific portfolio and collection of exclusive resort destinations worldwide.
With a private airstrip, Rosewood Hermana Mayor will be 40 minutes by plane from Manila and one hour and 40 minutes from Hong Kong. The island will also be easily accessible by boat. The stunning 500-hectare uninhabited island is home to several distinct microenvironments and has become a natural sanctuary for the area's distinct flora and fauna. With more than seven kilometers of immaculate white sand beach, the family-owned island has been used exclusively as a private vacation getaway over the last 60 years, hosting family members, friends, prominent guests, royalty and heads of state.
Rosewood Hermana Mayor will be composed of 128 spacious, thoughtfully appointed villas and pavilion-style guestrooms in addition to Rosewood Residences for private ownership. All accommodations will be designed to blend seamlessly into the island's lush tropical setting and offer expansive sea views.
The resort will offer distinct dining venues featuring Asian and international cuisines. Additional amenities will include an inspired selection of event venues, making use of Rosewood's distinctive approach to designing celebration and meeting spaces; they will feature a variety of outdoor areas that all showcase the island's breathtaking natural landscape. The property will also include Asaya, Rosewood's award-winning integrative and holistic wellness experience, in addition to a state-of-the-art gym, a full yoga and Pilates studio, and spectacular swimming pools.
Guests may explore pristine sandy beaches and nature trails throughout the island as well as a beach club, nine-hole golf course, tennis courts and a variety of land and water activities. Stewarding and appreciating the natural beauty of Hermana Mayor will be an integral part of the resort experience. This will include a coral academy to educate guests about the preservation of the island's reefs and botanical gardens will cultivate the island's florae. Programs, including the Rosewood Explorers kids' club, will help guests to discover and support the indigenous cultures of the region.
Rosewood Hermana Mayor is being developed with a complete commitment to protect the environment and minimize its carbon footprint. Resort facilities will be powered by solar energy and a state-of-the-art battery storage system, transportation will be provided by electric vehicles, farm-to-table produce will be sourced from organic and hydroponic gardens and water will be will be collected for reuse.