U.S. News & World Repor today released its annual rankings of the Best Winter Vacations. The rankings highlight 20 global destinations to explore during the year's coldest months. U.S. News also ranks the Best Winter Family Vacations, the Best Ski Destinations in the USA and the Best Caribbean Beaches.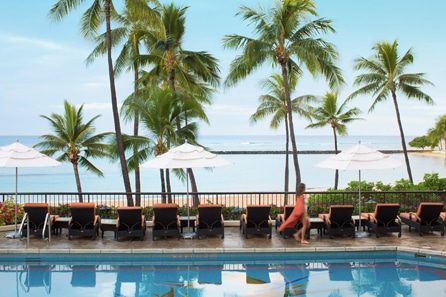 Hawaii – The Big Island, is the No. 1 destination for the Best Winter Vacations this year, considered a popular choice by both travelers and U.S. News editors alike for its warm weather and excellent surfing conditions. Rome comes in at No. 2 due to its gleaming architecture, food scene and lodging deals, with Jackson Hole, Wyoming following at No. 3 thanks in part to its mega ski resorts that make for a perfect winter getaway. Rome is also a top option for the budget-savvy traveler – it comes in first on the Best Affordable Winter Vacations list.
For those looking to escape the cold, many Caribbean hotels are making their comeback this year following an active and devastating hurricane season in 2017. U.S. News highlights the best places to visit in the Caribbean this winter, from some of the most pristine luxury beaches to more affordable destinations. The British Virgin Islands is a must-see, taking the No. 1 spot on the Best Caribbean Beaches ranking this year, with the U.S. Virgin Islands at No. 2 and Turks & Caicos at No. 3. For consumers looking for a trip that won't break the bank, Curacao is the No. 1 Best Affordable Caribbean Destination, followed by Trinidad & Tobago at No. 2 and Turks & Caicos at No. 3.
"Winter is one of the best times for travelers to plan the perfect getaway because they can avoid the usual crowds and save a little bit of money in many destinations," said Erin Shields, travel editor at U.S. News. "Whether it's escaping to the warmth of a Caribbean island, sticking with snow and finding the perfect place to ski or crossing something off a bucket list, the U.S. News' Best Winter Vacations provide options to cure any wanderlust."
The Best Winter Vacations are part of the Best Vacations rankings from U.S. News' Travel channel. For Best Vacations, U.S. News analyzed more than 700 destinations using a methodology that combines travelers' opinions with expert and editor analysis. Each destination is scored in 10 categories, from sights, culture and food to nightlife, adventure and romance, offering a comprehensive evaluation of each destination.
Best Vacations also includes rankings of the best destinations in the USA, Europe, Mexico, Canada, Africa and The Middle East, Central and South America and Australia and The Pacific.
2018-19 U.S. News & World Report Best Winter Vacations Rankings
| | |
| --- | --- |
| Best Winter Vacations | Best Winter Family Vacations |
| 1. Hawaii – The Big Island | 1. Orlando -Walt Disney World, Florida |
| 2. Rome | 2. Anaheim – Disneyland, California |
| 3. Jackson Hole, Wyoming | 3. Gatlinburg, Tennessee |
| 4. New Orleans | 4. Honolulu – Oahu |
| 5. Phuket, Thailand | 5. Quebec City |
| Best Ski Destinations in the USA | Best Caribbean Beaches |
| 1. Breckenridge, Colorado | 1. British Virgin Islands |
| 2. Park City, Utah | 2. U.S. Virgin Islands |
| 3. Jackson Hole, Wyoming | 3. Turks & Caicos |
| 4. Steamboat Springs, Colorado | 4. Anguilla |
| 5. Vail, Colorado | 5. Cayman Islands |