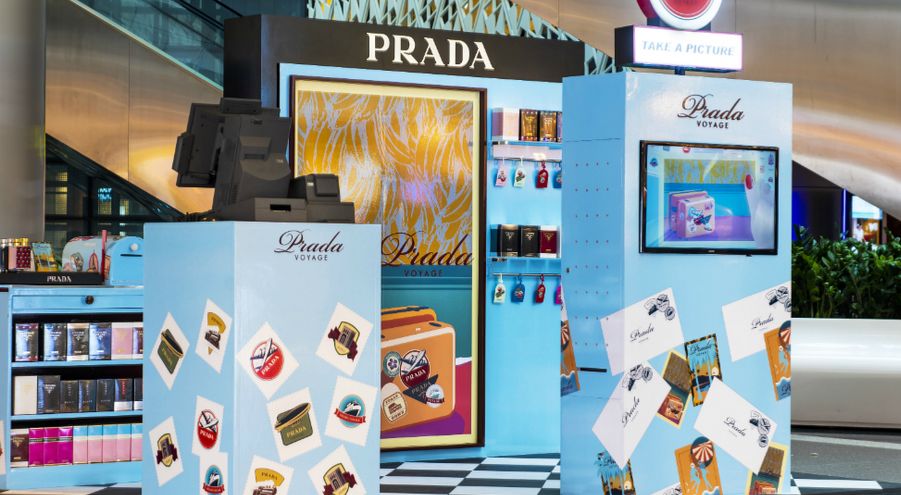 Qatar Duty Free (QDF) is delighted to announce the launch of the Prada Voyage Experience at Hamad International Airport (HIA).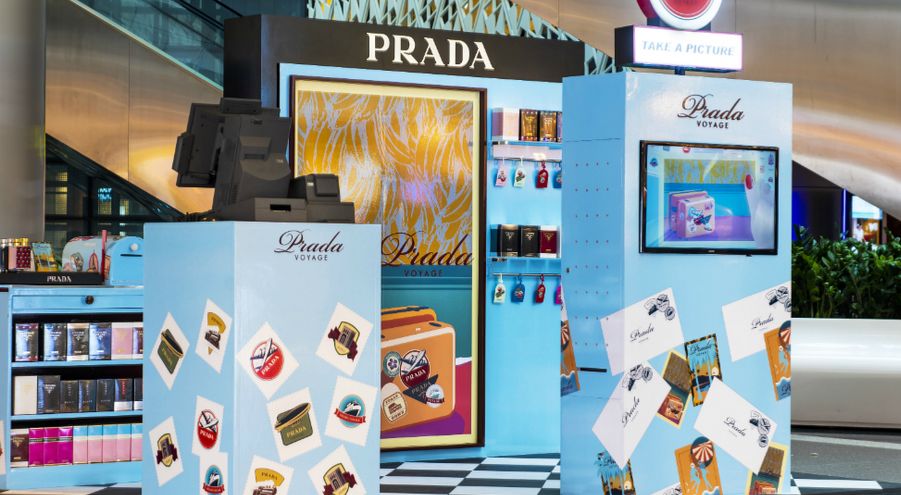 Passengers will be able to capture their favourite moments at a Prada Voyage photo booth located in front of the confectionary area at Hamad International Airport. The podium will also feature an interactive fragrance discovery area as well as a gift wrapping station.
Prada Voyage will offer passengers a unique experience with a personalisation stand that will enable them to customise their perfume bottle with a Saffiano leather tag stamped with their initials. The Prada Voyage photo booth will be available for passengers to capture, print and share their favourite moments, along with postcards that customers can decorate with exclusive QDF stamps and mail to their loved ones.
Prada's diverse fragrance collection available at Qatar Duty Free includes: the iconic duo of La Femme Prada and L'Homme Prada; Prada Luna Rossa for men with powerful and fresh scents exploring man and nature, as well as the Prada Candy collection inspired by Prada's femininity in a set of bold and lively scents.
QDF boasts more than 90 elegant boutiques and luxury, high-end stores, as well as more than 30 restaurants and cafés covering an area of 40,000 square metres at HIA, providing travellers with a world-class shopping experience under one roof. Luxury brands also available at the five-star airport include Tiffany & Co., Gucci, Bulgari, Hermès, Hugo Boss, Moncler, Rolex and Harrods.
Qatar Duty Free was recently awarded 'Airport Retailer of the Year' at the 2018 DFNI Global Awards. In addition, in April, the leading airport retailer was recognised at the PAX International Readership Awards, when Qatar Airways won 'Best In-Flight Duty Free Program' for the Middle East and Africa and was acknowledged as an industry leader for its outstanding in-flight duty free service, which is operated by Qatar Duty Free.
HIA the home of QDF, has already met a number of significant milestones in 2018, including being ranked fifth 'Best Airport in the World', fourth 'Best Airport for Shopping' and fifth 'Best Airport for Dining' at the Skytrax World Airport Awards 2018. HIA is the only airport in the Middle East to be ranked in the world's top 10 airports of 2018. At the annual awards ceremony, HIA also took home the title of 'Best Airport in the Middle East' for the fourth year in a row, and 'Best Staff Service in the Middle East' for the third year in a row.