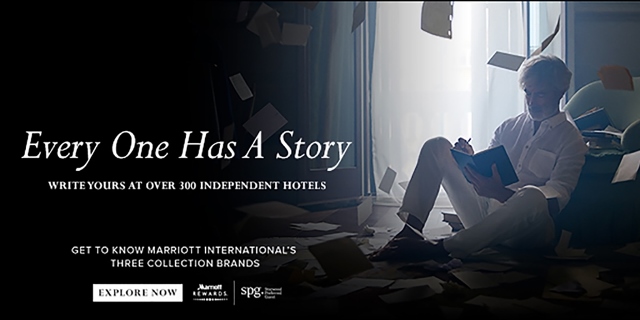 Marriott International today debuted a bold new media campaign showcasing the power of its independent hotel platform across the company's three collection brands: The Luxury Collection, Autograph Collection Hotels and Tribute Portfolio. Rolling out globally through the end of the year, the creative campaign reinforces the growing demand among today's consumers for the unique travel experiences found at Marriott International's global portfolio of 300 independent properties.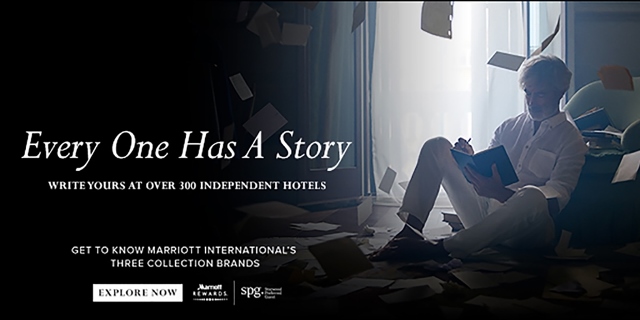 Conceived, developed and produced by creative agency MATTE Projects collaboratively with the brands' marketing team, the campaign was inspired by the idea that everyone has a story – referring to the hotels themselves and guests who leave with a lasting impression. Each of the three executions visually counts down the captivating experiences and cherished memories that global travelers collect when staying at the company's independent hotels around the world.
The collection category campaign was shot on 5 continents and features such diverse urban and resort destinations as: Al Maha Desert Resort & Spa in the sprawling desert outside of Dubai; Hotel Vagabond in Singapore's energetic Arts & Heritage District; Noelle illuminating Nashville's vibrant downtown and Palacio de Santa Paula in the historic heart of Granada.
Led with a :60 hero film, shorter executions will roll out across a variety of platforms ranging from in-flight entertainment and cinema theatres, to digital and social media – first in North America followed by Europe and Latin America through the end of 2018.
Independence Reigns: Marriott International's Trio of Collection Brands Primed for Global Growth
Marriott International is focused on differentiating its collection brands by giving each brand a distinct personality and curating the hotels within each portfolio to speak to a specific customer expectation. The Luxury Collection, part of the company's extraordinary portfolio of luxury brands, represents hotels that define the destination and provide a true luxury experience; while Autograph Collection Hotels and Tribute Portfolio are part of its Premium Distinctive group of upper upscale, full-service lifestyle hotels. Autograph Collection Hotels are hand-selected for their rich design and immersive stories; while Tribute Portfolio brings together characterful hotels with vibrant social scenes that create a sense of belonging for guests and locals.
The Luxury Collection brand is slated to debut at least 8 remarkable hotels and resorts by the end of next year in coveted destinations, such as Tasmania, Budapest and Okinawa. Autograph Collection Hotels is scheduled to add nearly 30 hotels by the end of next year in locales from Mykonos, Greece to Seville, Spain; and Tribute Portfolio is expected to add more than 10 new hotels to its portfolio in cities like Rotterdam, Helsinki and Cartagena.
Through Marriott International's collection brands, global travelers have access to outstanding luxury and upper-upscale hotels while benefitting from the company's award-winning loyalty programs; and independent hoteliers can leverage the company's powerful distribution, sales and loyalty platforms while maintaining their independent spirit. Today, Marriott International's combined loyalty platform, which includes Marriott Rewards, The Ritz-Carlton Rewards and Starwood Preferred Guest, leads the industry with over 110 million members.