Radisson Blu announces its latest hotel opening in the historic Turkish city of Trabzon. The 162-room Radisson Blu Hotel, Trabzon is located in Boztepe, the city's cultural heart, and provides stunning views of the Black Sea. This recent opening brings the portfolio of Radisson Hotel Group to 21 hotels in operation in the country.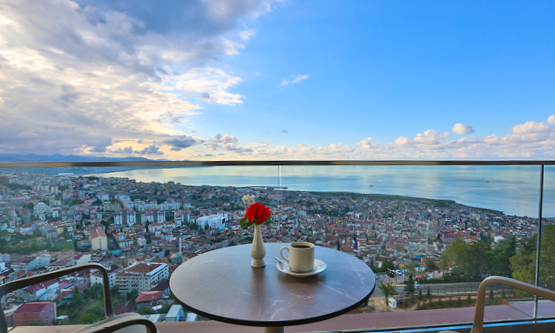 Situated in Boztepe, the Radisson Blu Hotel, Trabzon is at the heart of an area of ancient religious significance and the site of four major sacred fountains. The hotel is just 2km from the city center, where guests can explore a number of shops, restaurants, cafes and cultural venues. Local attractions include the Boztepe Tea Garden and Hagia Sophia, a mesmerizing mosque set in idyllic surroundings by the sea. Easily accessible to domestic and international travelers, the hotel is just 7km from Trabzon Airport.
The Radisson Blu Hotel, Trabzon features 162 rooms and suites of different types, including family rooms and others with balconies that boast spectacular views of the sea, city or its natural surrounding landscape. The rooms have a contemporary design inspired by Scandinavian simplicity and style, with all of them featuring first-class amenities (including free Wi-Fi).
The hotel's signature dining experience comes from two superb restaurants: Kolcuoglu and Queen. Kolcuoglu provides an authentic local touch, serving Turkish kebab specialties – like the Adana kebab – that can be enjoyed while taking in the marvelous view of Trabzon. Queen is an international à la carte restaurant, serving breakfast, lunch and dinner. The hotel bar also offers the ideal opportunity to relax over a drink and some snacks.
Leisure facilities at the Radisson Blu Hotel, Trabzon include a spa and wellness center for guests to relax and rejuvenate in, while the gym and indoor and outdoor swimming pools allow guests to maintain their fitness regimes while away on leisure or business.
The meeting facilities feature five conference rooms and a stunning ballroom capable of hosting over 1,200 people. The ballroom space can also be divided into two rooms,making it ideal for business functions or social events. The five meeting rooms offer 284sqm of space, with all the rooms offering natural daylight, audio-visual equipment and individual climate control.