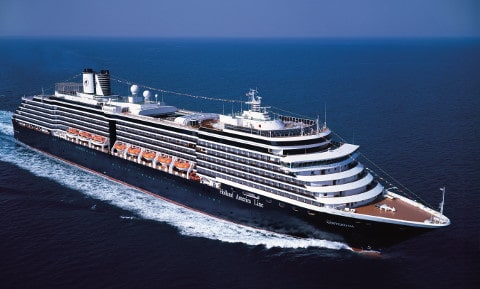 Holland America Line is supporting October's Choose Cruise Month organized by Cruise Lines International Association (CLIA) with an offer on more than 800 cruises sailing to all of the premium line's global destinations that features up to $400 onboard spending money for booking an ocean view or above stateroom.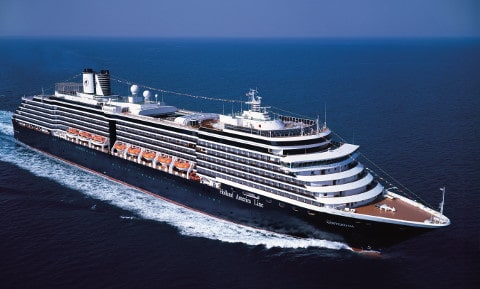 The Choose Cruise Month offer also can be combined with the Explore4 promotion to receive greater benefits that include complimentary beverages and specialty dining, reduced deposits and free or reduced fares for third and fourth guests in a stateroom. With Explore4, suite bookings also receive additional onboard spending money.

The monthlong event that runs Oct. 1 – 31, 2018, features promotions that aim to give consumers the opportunity to become more knowledgeable about cruising, as well as plan and book a Holland America Line cruise vacation with extra benefits. The Choose Cruise offer applies to select sailings from fall 2018 through spring 2020.

For the Choose Cruise offer, travelers making a booking on select fall and holiday 2018 through spring 2020 cruises (excluding Grand Voyages) in ocean view and above staterooms receive onboard spending money up to $400, depending on the length of the cruise and type of stateroom (ocean view or higher) booked. This offer can be combined with the cruise line's Explore4 promotion that provides four added-value extras for guests booking any category stateroom, including a Signature Beverage Package, dinner at the Pinnacle Grill for two, free or reduced cruise fares for third and fourth guests in the same stateroom, and 50 percent reduced deposits.

With Explore4 suite bookings also receive $200 onboard spending money per stateroom ($100 per person) in addition to the four offers and exclusive Choose Cruise Month onboard spending money, making it possible to receive a total of up to $600 in onboard spending money.

Through the combined Choose Cruise and Explore4 promotions, for example, guests can book a seven-day western Caribbean sailing aboard Nieuw Statendam Feb. 10, 2019, for $849 per person for an ocean view stateroom with a 50 percent reduced deposit required. Each stateroom would receive a total $50 shipboard credit in addition to Pinnacle Grill dinner for two ($70 value) and Signature Drink Package for two ($700 value). Taxes, fees and port expenses are additional.

Guests looking to take advantage of the Choose Cruise offer can book select itineraries to all of Holland America Line's global destinations, including Alaska and Alaska Land+Sea Journeys (Explore4 applies to cruise portion only), Asia, Australia/New Zealand, the Baltic, Canada and New England, the Caribbean, Europe, Hawaii, Holiday, the Mediterranean, Mexico, the Panama Canal and South America. Grand Voyages and Grand Voyage segments are excluded.