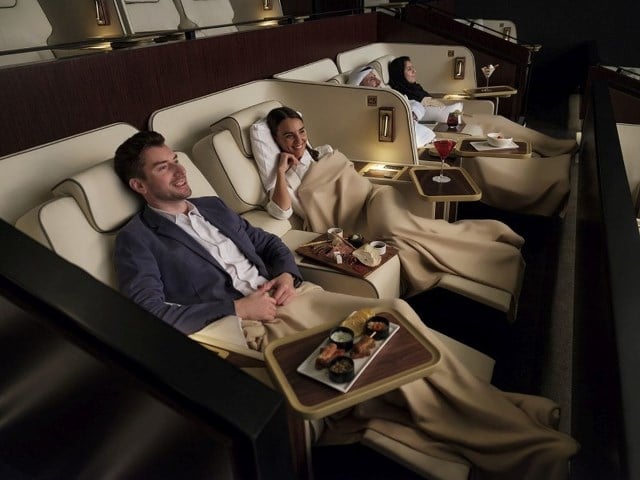 Emaar Entertainment, the pioneer of innovative entertainment, leisure and retail concepts, and a business of global developer Emaar Properties, is redefining the luxurious cinema experience with its Reel Cinemas in Dubai.
Reel Cinemas has brought never-before-seen experiences to the world by elevating its cinemas to the next level of operational excellence, technology innovation, luxurious amenities and the highest standards of service. These are also driven by several global-first partnerships including with Dolby Cinema, ScreenX and its association with international restaurateur Guy Fieri.
Recently, the all-new Reel Cinemas – The Dubai Mall, located in the world's most visited retail and leisure destination, was unveiled, marking a new era in cinema entertainment. It has several innovative firsts: The Platinum Suites that offer superlative standards of in-cinema luxury including personalised butler services; a Dine-in Cinema with Guy Fieri'ssignature menu; a stand-alone 170-seater Guy Fieri's Kitchen; stunning viewing with Dolby Cinema and the first ScreenX in the Middle East. With Barco Laser Projectors and Dolby Atmos, viewers are assured of exceptional experiences.
The transformation of Reel Cinemas follows a committed strategy of digitisation of the cinemas, and a focus on reshaping 'moviegoing' as a distinctive 'lifestyle experience.' Now, Reel Cinemas has five cinemas in Dubai: the 26-screen Reel Cinemas – The Dubai Mall; the 7-screen Reel Cinemas – Dubai Marina Mall; the 4-screen Guy Fieri's Kitchen & Bar and Dine-in Cinema by Reel Cinemas at Jebel Ali Recreation Club; the 6-screen Reel Cinemas – The Springs Souk that includes a first dedicated screen for the little ones – Reel Junior; and the Reel Boutique by Reel Cinemas at Rove Downtown, one of the UAE's first hotel cinemas. Several Reel Cinemas will open soon in central locations in Dubai and key cities in the region.