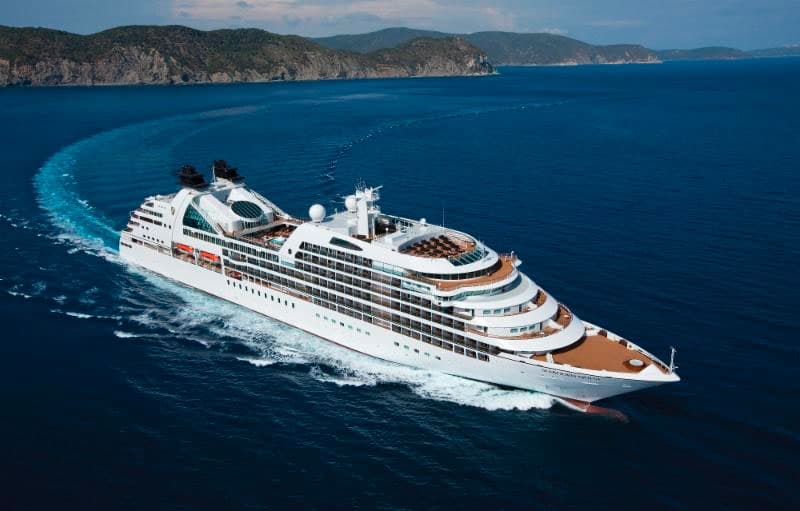 The 2018 Alaska and British Columbia travel season is coming to an end, but it's not too early to start contemplating a trip to experience the best of "The Great Land" in 2019. Seabourn, the world's finest ultra-luxury cruise line, will be taking your clients to see the vast wilderness as it winds its way through the region again next summer.
Inspired by the success of the past two seasons and in response to high guest demand, Seabourn has curated an enriching and altogether exciting line up of 11-, 12- and 14-day Alaska and British Columbia cruises onboard Seabourn Sojourn. With just 10 departures scheduled through the season, running from June to October 2019, only about 4,500 lucky guests will be able to enjoy the region in Seabourn style next year, making early booking an imperative.
Itinerary highlights of Seabourn's 2019 season in Alaska and British Columbia include:
· Ultimate Alaska Sojourn – An 11-day voyage northbound from Vancouver, British Columbia to Anchorage (Seward), Alaska. Three departures from June to August will feature Ketchikan, Sitka, Haines/Skagway and Juneau, as well as scenic cruising to Tracy/Endicott Arm and Misty Fjords. Departures June 7, July 14, August 20.
· Ultimate Glacier & Fjord Adventure – A 14-day cruise sailing southbound from Anchorage (Seward), Alaska to Vancouver, British Columbia. Three departures from June to September will begin with scenic cruising of the beautiful Kenai Fjords and Aialik Glacier before visiting Alaska's marquee ports and adding Prince Rupert and the First Nations villages of Klemtu and Alert Bay in British Columbia's breathtaking Inside Passage. Departures June 18, July 25, August 31.
· Ultimate Alaska & Inside Passage – A 12-day round-trip Vancouver voyage sailing four times between July and September. These voyages visit Sitka, Ketchikan, Wrangell and Juneau in Alaska and traverse the beautiful Canadian Inside Passage to Prince Rupert, Klemtu and Alert Bay en-route back to Vancouver. Departures July 2, August 8, September 14, September 26.
All the 2019 voyages will offer optional for-charge Ventures by Seabourn shore excursions featuring guided Zodiac cruising and kayak excursions launched directly from the ship, as well as hiking and wildlife viewing. Guests will not only enjoy glaciers, fjords and rustic Alaskan ports that every Alaska cruiser expects, but also signature "hidden gems" that larger ships cannot access. These excursions will be led by Seabourn Sojourn's expedition team of naturalists, science, wildlife and historical experts. They will also interact with guests throughout each sailing, including complimentary formal presentations as part of the Seabourn Conversations program, and on deck, pointing out, interpreting and enhancing desirable locations as well as in more casual conversations over meals or at leisure.
Depending on the itinerary, Seabourn's Alaska & British Columbia voyages include calls to rarely visited locations such as Alert Bay and Klemtu, a town of fewer than 500 people belonging to the Kitasoo Native Band and where your clients will enjoy an exclusive cultural experience as an inclusion of the voyage. Access towering forests along the Inland Passage and the graceful breaching of humpback whales in the Kenai Fjords. Guests can explore cities and towns including the state capital of Juneau, colorful Ketchikan, and historical Sitka, whose Tlingit roots go back 10,000 years. In certain areas such as Misty Fjords, they will be able to explore wildlife-rich waterways, forested mountain vistas and lacy waterfalls up close via Ventures by Seabourn excursions.
Each of the 11-, 12- and 14-day cruises will include complimentary Seabourn all-weather jackets; inspiring Seabourn Conversations with special onboard guest speakers; opportunities for frequent wildlife sightings from the ship and shore; and a "Caviar on the Ice" deck party and other special deck events.
In addition, Seabourn offers your clients the opportunity to explore Alaska more in-depth with the Denali Experience, an exclusive and optional Seabourn Journey available before or after select Seabourn Alaska voyages. The five-day Denali Experience is a fully escorted, custom-designed overland adventure promising awe-inspiring wonder with luxury accommodations and culinary options. Venturing into the Great Land, Seabourn guests will soar high above glaciers in a flightseeing plane, as well as head deep into the protected wilderness of Denali National Park with a guide to spot grizzly and black bears, wolves, moose, caribou and more.
At the end of the season, don't miss a repeat of Pacific Gold Coast, an eight-day voyage southbound from Vancouver to Los Angeles, with stops in Seattle, Wash.; Victoria, B.C.; San Francisco, Monterey and Santa Barbara, California. Departure October 8.