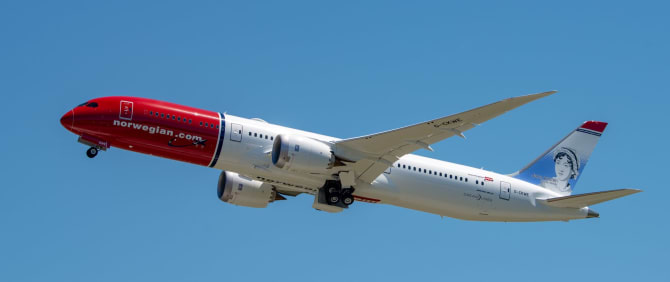 The International Council on Clean Transportation (ICCT) today released its white paper analysing the fuel efficiency of the 20 leading airlines on routes between Europe and the United States in 2017. Norwegian once again rose to the top as the most fuel-efficient airline on transatlantic routes, this achievement marks the second time that the airline has been recognised as the clear leader by the ICCT following their initial report released in 2015.
Findings showed Norwegian, on average, achieved 44 passenger kilometers per liter (pax-km/L), which is 33% higher than the industry average – soaring past 19 of its competitors. Norwegian, flies one of the youngest fleets in the world, comprised of Boeing 787 Dreamliners, 737-800s and 737-MAXs.
According to the study, Norwegian eclipsed its competition as the most-fuel efficient on sample routes from New York to London, Los Angeles to London and New York to Paris. In fact, on the New York to London route, Norwegian's competition including Virgin Atlantic, American, Delta, United and British Airways burned 33% to 78% more fuel per passenger-km. The results show that British Airways, which ranked last in the results, burned a staggering 63% more fuel per passenger kilometer than Norwegian, a marked increase since the last assessment in 2014. Additionally, Norwegian has reduced its per passenger emissions by 30% since 2008, thanks to its investment in new aircraft.
The International Council on Clean Transportation is an independent nonprofit organization founded to provide first-rate, unbiased research and technical and scientific analysis to environmental regulators. Its mission is to improve the environmental performance and energy efficiency of road, marine, and air transportation, to benefit public health and mitigate climate change.