The Luxury Collection today announced the opening of Solaz, a Luxury Collection Resort, Los Cabos. Perched on a coveted 34 acres overlooking the Sea of Cortez, Solaz Resort offerst ravelers a restorative, wholly transformative experience in the heart of Baja California Sur. Located midway between the bustling vacation city of Cabo San Lucas and the quaint historic town of San José del Cabo, the 128-room beachfront oasis is The Luxury Collection's first hotel on the beautiful Baja California peninsula.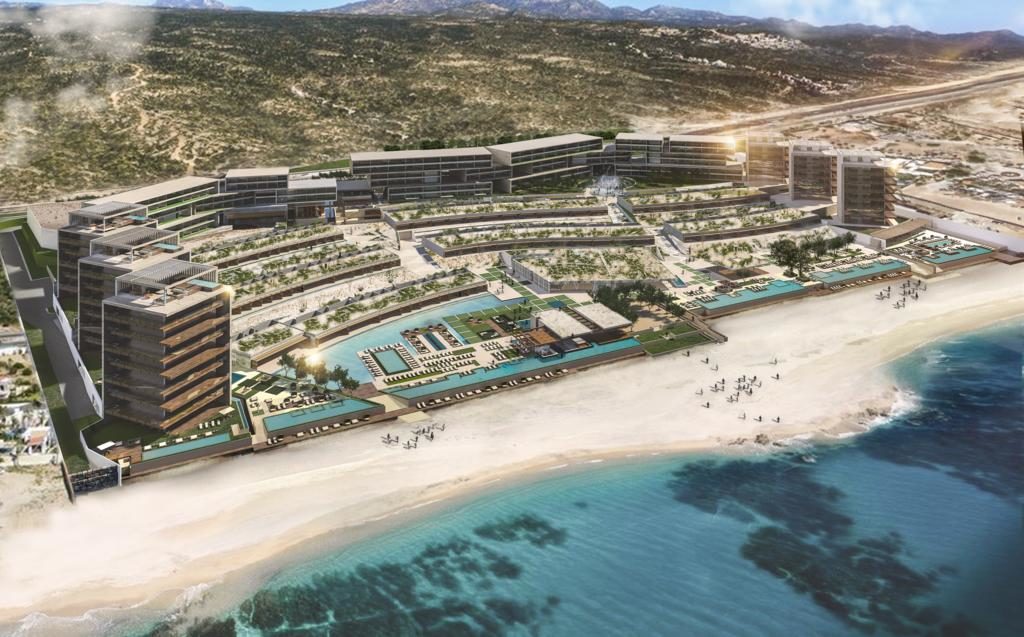 From design to cuisine, immersive adventures to spacious accommodations, Solaz Resort pays tribute to its Baja home, celebrating the magnificent natural landscapes and exquisite cultural marvels that are the region's signatures. Solaz Resort has collaborated with the very best in locally grown talent, including Mexican architects, artists and chefs, to ensure a truly captivating experience rooted in authenticity.
Sophisticated Accommodations
Each masterfully designed guest room and suite at Solaz, a Luxury Collection Resort, Los Cabos features a private entrance and patio, contemporary furnishings and original art. Further setting the mood, Bluetooth technology offers touchscreen remote control access to the curtains, lighting and music. Unobstructed views of the sea blur the lines between indoors and outdoors, with a natural flow from each room to its private terrace.
Architectural Marvels
Guests of Solaz Resort will at once notice the striking architecture, which seamlessly blends the destination's unique landscape, where the desert meets the sea. Springing from the fertile imagination of renowned Mexican architectural firm Sordo Madaleno, the resort's cascading terraces mix desert vegetation with quarry stone, granite, marble and wood. Celebrating the distinctive endemic landscape of Baja, Solaz Resort features a sustainable lush "dry jungle" featuring only endemic flora.
Mexican Art Immersion
Celebrating art at every turn, The Luxury Collection's Solaz Resort features original works throughout the property — all masterfully created by famed Mexican artist César López-Negrete, who travelled throughout Baja for years studying the region's land, water, history and folklore. El Gabinete "Del Barco" is the resort's indigenous gallery, showcasing rare regional artifacts such as a 43-foot-long whale skeleton and a historical map collection.
Authentic Experiences and Adventures
Solaz Resort offers an array of bespoke, exclusive experiences designed to bring guests closer to the soul of Baja. Take a private helicopter trip to explore the rare cave paintings of Baja. Swim alongside whale sharks, gentle giants who can grow up to 33 feet long. Learn about the region's deep culinary heritage during a cooking class. Enjoy a breathtaking night under the desert stars, soaking in crystal clear visions of the cosmos. Can't decide what to do? No problem – each room will have a dedicated Artisan butler who will help curate these one-of-a-kind, luxury adventures.
The Flavors of Baja
Culinary offerings at Solaz, a Luxury Collection Resort, Los Cabos are as authentically inspired as the property itself, with five unique restaurants and lounges designed for visitors with discerning palates.
Mako offers an al fresco dining experience during the day, with salads from local biodynamic farms, and artisanal wood-fired flatbreads. By night, the Mako Dinner Grill offers such delicacies as dry-aged steak, local live lobsters and the sea's freshest fish, all prepared in-house by Executive Chef Pedro Arceyut and his team.
The resort's all-day restaurant, Cascabel, is a vibrant venue for modern Mexican dining. Highlighting the diversity of Mexican cuisine from region to region at its bustling cooking stations, Cascabel prepares seasonal dishes using locally-sourced, garden-fresh ingredients. Communal seating creates a highly social environment for gathering with friends and family and local craft and botanical-infused libations give cause for celebration.
Those looking for lively libations can enjoy the property's impressive wine cellar at La Cava, offering a selection of more than 2,500 vintages, many of which are local to the region.
Arabica, created in partnership with the award-winning Limantour Group, is about energy and creativity. At night, Arabica transforms into a hip and decadent spot offering and array of delicious tapas that reflect the seasonal colors and local flavors of Baja California, as well as creative cocktails including cocoa-inspired libations.
The resort is also home to Xocolatl, a modern chocolate shop and ice cream boutique that sells organic and indigenous chocolate from Mexico's diverse region.
All of the resort's restaurant menus have been developed to incorporate the captivating stories of local farmers that grow organic produce, fishermen that supply fresh and sustainable seafood, and the local artisanal craftsmen who specialize in traditional cheeses.
Restorative Ambiance
A restorative travel destination, Solaz Resort boasts five swimming pools including two 50-meter infinity pools lining more than 4,000 sq. feet of white sand beaches overlooking the Sea of Cortez. Each pool incorporates butterfly green granite, which emulates and seamlessly merges with the Sea of Cortez's tranquil turquoise waters. State-of-the-art exercise facilities feature Technogym® equipment and group of personal fitness instruction, and the 10,000-sq.-ft. Ojo de Liebre Spa offers eight private treatment rooms and two VIP double rooms, along with a full range of services like halotherapy (Himalayan salt igloo) and thalassotherapy — the latter only available in Baja California at the Ojo de Liebre Spa.
Baja's Ultimate Meetings Destination
The Luxury Collection's Solaz Resort offers the largest meeting space at any luxury hotel in Los Cabos, with 20,000 sq. feet of meeting, wedding and event space that can accommodate more than 1,000 guests. Whether hosting an intimate gathering for a select group of associates, or a grand-scale event in honor of an important milestone occasion, group events are met with flawless service and precise execution. A team of expert event planners ensures attention to every detail.
Discover New hotel openings in Mexico: https://www.rustourismnews.com/2018/07/17/new-hotels-in-mexico-for-2018/