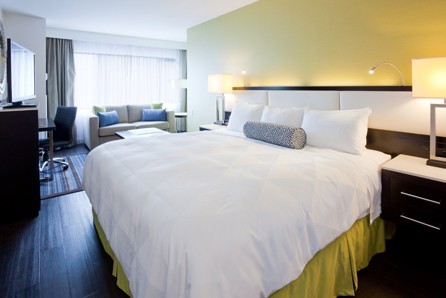 The All Suites brands by Hilton have continued their strong growth into Q2, opening 34 new hotels and bringing the total number of All Suites properties to nearly 1,000. The second quarter was marked by the All Suites brands entrance into several new convention center submarkets, and further expansion of the brand's footprint of multi-brand hotels. The All Suites brands also signed 35 hotel deals in the second quarter, continuing to add strategic locations to an already strong pipeline.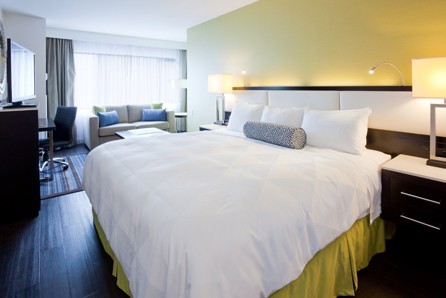 In the second quarter of the year, the All Suites brands by Hilton continued to show leadership in the development of multi-brand properties and international growth, with notable, new locations including:
Embassy Suites:
• Embassy Suites by Hilton Noblesville Indianapolis Conference Center: located off I-69 and with a conveniently attached conference center, this property can host meetings of up to nearly 2,000 guests.
• Embassy Suites by Hilton Montreal Airport: situated only a short distance from Montreal-Pierre Elliott Trudeau International Airport, the hotel provides complimentary shuttle service to make traveling for business or leisure easy.
Homewood Suites:
• Homewood Suites by Hilton Raleigh Cary I-40: centrally located between Raleigh and Research Triangle Park, this hotel provides quick access to the tech-focused Triangle area and NC State University.
• Homewood Suites by Hilton Monterrey Apodaca: Homewood's first dual-brand hotel with Hampton by Hilton in Mexico, this location is near the airport and a downtown shopping district.
Home2 Suites:
• Home2 Suites by Hilton Williamsville Buffalo Airport: a dual-build with Tru by Hilton, this property provides large communal areas and a range of options to meet an array of travel needs and budgets.
• Home2 Suites by Hilton Louisville Airport Expo Center: this airport hotel gives guests easy access to business locations like the Kentucky Exposition Center, and entertainment such as the Churchill Downs, the racetrack famed for hosting the Kentucky Derby.
Signed Deals
The All Suites brands by Hilton bolstered its pipeline with 35 new signed deals during the second quarter of 2018, bringing the total combined pipeline to 573 pending hotels. Notable signed deals include:
• Embassy Suites by Hilton Camarillo: Centrally located between Santa Barbara and Los Angeles, the property will allow guests the convenience of a short drive to either city while providing a quieter place to come home to when it opens in early 2021.
• Homewood Suites by Hilton Edison Woodbridge: Proximate to the New Jersey Convention and Exposition Center, a venue with over 150,000 square feet of exhibit space, this upcoming property will offer event attendees a convenient and comfortable hotel option.
• Home2 Suites by Hilton Myrtle Beach Oceanfront: One of two seaside properties signed this quarter, this location bolsters Home2 Suites growing footprint of hotels in top U.S. tourist destinations.
Brand Achievements and Upcoming Milestones
The All Suites brands continued to showcase their innovation and flexibility this quarter with new initiatives and milestones, including:
Embassy Suites:
• This quarter, Embassy Suites by Hilton hit an important milestone, opening its 250th property. Also this quarter, the Embassy Suites by Hilton Tysons Corner celebrated the completion of a renovation that included a full Atrium Refresh and addition of the brand's new E'Terie fast-casual dining option.
Homewood Suites:
• A dual-branded Homewood Suites by Hilton and Hampton by Hilton recently opened in Teaneck, NJ. In addition to the enhanced amenities offered by this multi-brand hotel, the property provides easy access to New York City via a MTA bus stop conveniently located just outside the hotel doors.
Home2 Suites:
• This month, Hilton opened its first tri-branded property connected to North America's largest convention center, McCormick Place in Chicago. The first property of its kind for Hilton, the hotel combines the signature elements of Hilton Garden Inn, Hampton Inn by Hilton, and Home2 Suites by Hilton while also providing larger enhanced communal areas than what would be standard at a standalone property. This opening furthers the All Suites brands' role as anchors in Hilton's successful multi-brand development strategy. To date, most multi-brand projects include either a Homewood and Home2 as their All Suites offering pair nicely with other focused service brands like Hampton, Hilton Garden Inn and Tru by Hilton.