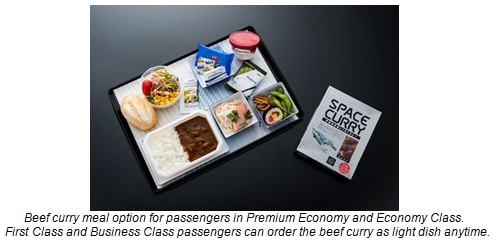 All Nippon Airways (ANA) and Japan Aerospace Exploration Agency (JAXA) are partnering to take passengers on the Narita-Houston flight out of this world in honor of Space Day and Sky Day. "Space Flight 2018" passengers will get to taste actual Japanese space meals such as beef curry and view special space-related video content to honor the future of exploration. "Space Flight 2018" can be experienced on all classes on the Narita-Houston flight from September 12-20.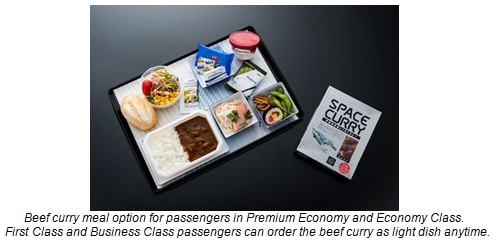 Flight dates, departure, and arrival destinations all have space-related ties. Space Day, established on September 12, 1992, commemorates JAXA astronaut Mamoru Mohri's first space flight aboard the Space Shuttle. Sky Day, which is on September 20, was designated in the same year as it marked the 40th anniversary of the resumption of Japanese civil aviation. Houston, home to the NASA Johnson Space Center, is a particularly symbolic choice for ANA's "Space Flight 2018."
JAXA certifies space food produced to maintain and improve the performance of Japanese astronauts on long-term missions. The food should also serve to alleviate their stress. 32 "Japanese Space Food" from 16 Japanese companies (as of September 2018) support the astronaut's wellbeing. In producing specialty Japanese meals for their astronauts, JAXA keeps their needs in mind, including having familiar flavors that remind them of home. Meals like beef curry, modeled after one of the most popular home-made Japanese dishes, are created to help astronauts relax and feel at ease.
On "Space Flight 2018" ANA passengers will have an actual taste of the astronaut lifestyle with food and drinks certified by JAXA to be served to astronauts in space like beef curry, available in First Class, Business Class, Premium Economy, and Economy Class departing from Narita, as well as yohkan (sweet red bean paste), available as self-service snack, and green tea, available in Premium Economy and Economy Class. To end the memorable flight on a fun note, Xylitol gum, which is also served in space, will be distributed by the flight attendants to all passengers before arrival.
In addition to the space food, passengers will be able to enjoy a special video message from JAXA astronaut and former ANA pilot Takuya Onishi, as well as special video contents made by ANA and JAXA to watch during the flight. ANA will also distribute a commemorative boarding certificate and an original sticker to all its space flight passengers. Economy Class passengers will receive an additional mini-card.
On September 12, before the inaugural space flight from Narita departing for Houston, ANA and JAXA will host a special ceremony in front of the gate of flight NH174. JAXA astronaut Takuya Onishi is attending the event to wish the passengers safe travels on the first space flight and honor Japanese space travel. Furthermore, at ANA lounges in Narita International Airport (No.5 Satellite), a space suit will be displayed and "space gum" will be handed out.
The idea to launch "Space Flight 2018" came from ANA employees who participate in the company's "Space Industrialization Project." Created in January 2018, the Space Industrialization Project is for ANA employees, passionate about outer space, to discuss how ANA can realize and promote space travel. The team proposed this event to raise awareness of space business within the airline industry and provide ANA's passengers with an educational and interesting look at space travel.