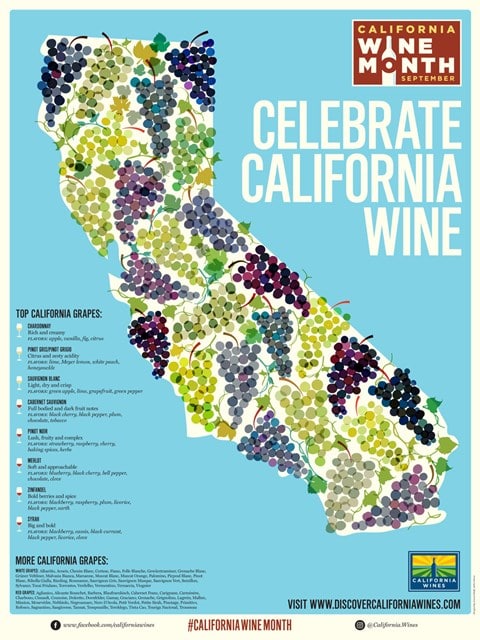 September is California Wine Month, and there's no better time to experience the excitement of the state's annual harvest season. Across California, wineries, regional associations and other organizations are hosting exclusive tastings, festivals, live music, food pairings, grape stomps, vineyard hikes and much more.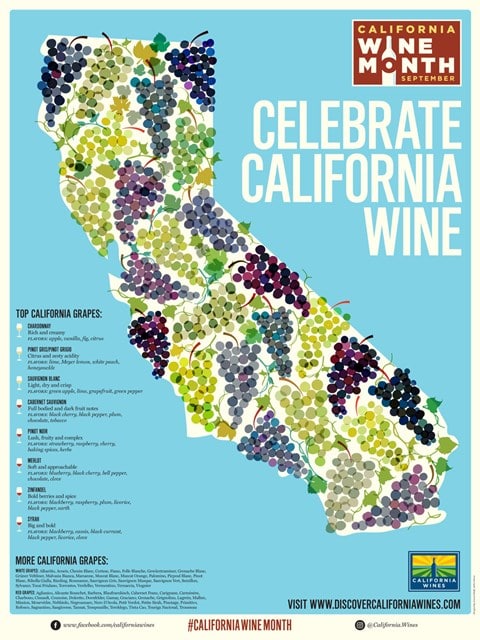 Now in its 14th year, California Wine Month celebrates the Golden State's 250-year winegrowing history and recognizes the achievements of California vintners and growers in preserving tradition and driving innovation. With 4,800 vintners and 5,900 growers within its borders, California is the world's fourth-largest wine producer and the source of 81 percent of the wine made in the United States. It is also the most visited state in the U.S. for food- and wine-related activities, attracting 24 million people each year, and the producer of more than 400 specialty crops. Wine lovers can also celebrate with activities and special offers from California Wine Month partner retailers and restaurants during the month of September.
NORTH COAST
Sept. 1: Taste of Sonoma, Sonoma State University's Green Music Center.
Sept. 7-8: Winesong Weekend, various locations throughout Mendocino County.
Sept. 8: Calistoga Wine Experience, Pioneer Park, Calistoga, Napa Valley.
Sept. 15: Lake County Wine Auction, Boatique Winery, Kelseyville.
Sept. 22: Zinfandel: Stories from Napa Valley, Culinary Institute of America at Copia, Napa
SAN FRANCISCO BAY & SANTA CRUZ MOUNTAINS
Sept. 2: Livermore Valley Harvest Wine Celebration, Wineries throughout the region.
Sept. 8-9: Annual Capitola Art & Wine Festival, Capitola Village in Santa Cruz County.
Sept. 8-30: Fall Passport Month, Wineries of Santa Clara Valley.
Sept. 22: Eat Drink Los Gatos, Downtown district, North Santa Cruz Ave.
Sept. 29: Livermore Valley Wine Auction, Wente Vineyards.
CENTRAL COAST: MONTEREY TO SANTA BARBARA
Sept. 1: Highway 46 West Wineries Harvest Block Party, Dark Star Cellars in Paso Robles.
Sept. 9: Taste of the Town Santa Barbara, Riviera Park Gardens.
Sept. 28: Sip & Saunter, San Luis Obispo.
INLAND VALLEYS
Sept. 13-16: Lodi Grape Festival, Lodi Event Center.
Sept. 21: Madera Wine Trail's California Wine Month Celebration, Papagni Winery, Madera.
SIERRA FOOTHILLS
Sept. 1-30: Find the Gold in Calaveras Wine Country: A Treasure Hunt, Participating wineries.
Sept. 7-9: Lake Tahoe Autumn Food & Wine Festival, Northstar Resort, Truckee.
Sept. 8: WINEderlust River Wine Festival, Henningsen Lotus Park on the American River, El Dorado County.
Sept. 15: Sample the Sierra Farm-to-Fork Festival, Bijou Community Park, So. Lake Tahoe.
Sept. 15: Barbera Festival, Terra d'Oro Wines, Amador County.
SOUTHERN CALIFORNIA
Aug. 31-Sept. 2: The Taste, Paramount Pictures Studios, Hollywood.
Sept. 8: VINO-Palooza Wine & Music Festival, Marina Del Rey Hotel, Los Angeles.
Sept. 29: Temecula Valley CRUSH, Monte De Oro Winery, Temecula.
CALIFORNIA WINE MONTH PARTNERS
California Wine Month is supported by restaurant, retail, hotel, media and association partners in California and throughout the U.S. including:
U.S. National/Regional: California Pizza Kitchen, Cooper's Hawk Winery & Restaurants, The Culinary Institute of America, Dickie Brennan & Co. A Family of Restaurants, Kimpton Hotels & Restaurants, PF Chang's, Safeway and Tavistock Restaurants.
California: Albertsons, Blackhawk Grille, Café del Rey, California Restaurant Association, Charlie Palmer Steak Napa, Compline, Dean & Deluca, Della Fattoria, Ferry Plaza Wine Merchant, Giordano Brothers, LA County Fair, Wine Bar (Macys), Napa Valley Grille, Pavilions, Rio Grill, San Francisco Wine School, Sky & Vine Rooftop Bar, Taj Campton Place, Tarpys Roadhouse, Visit California, VONS and Women for Winesense.
Visit discovercaliforniawines.com/californiawinemonth to view the full list of regularly updated events and partners.