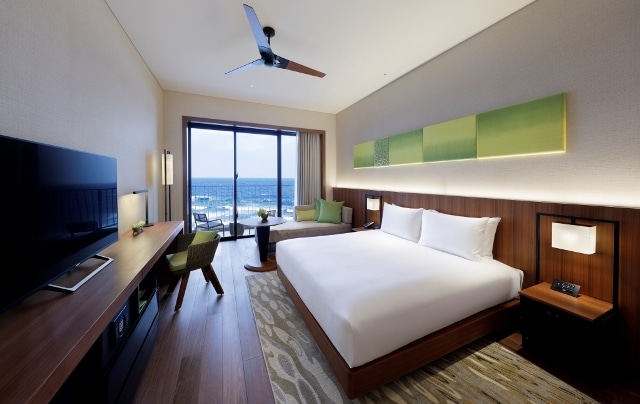 Hyatt Hotels Corporation has announced the opening of Hyatt Regency Seragaki Island Okinawa in the southernmost region of Japan. Located on the private Seragaki Island and linked by a bridge to the main island of Okinawa, the hotel offers a stunning view of the East China Sea from all 344 guest rooms. An immersive destination hotel, Hyatt Regency Seragaki Island Okinawa blends local culture, warm hospitality and thoughtful service, enabling guests to feel refreshed and reconnected to who and what matters to them most.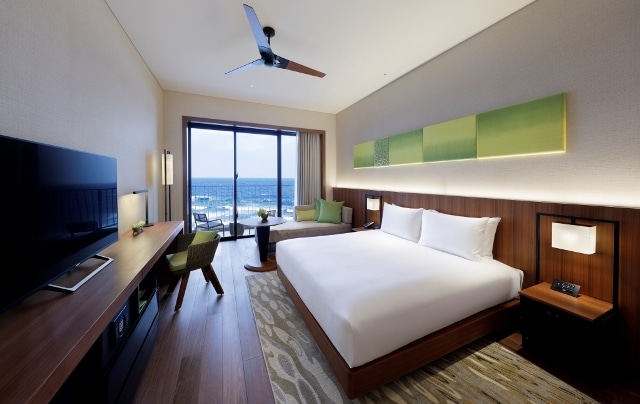 Hyatt Regency Seragaki Island Okinawa is on the west coast of Okinawa, approximately one hour by car from Naha Airport. Located in Onna, Okinawa's most sought after beach destination, the hotel is an ideal spot for exploring the rugged scenery of the Yanbaru area to the north and the UNESCO World Heritage sites in the central and southern areas. Nearby attractions include the Bios no Oka subtropical forest, the Okashi Goten sweets factory, the Ryukyu Mura theme park, and the scenic Cape Manzamo, a dramatic coral cliff and ideal spot for sunset-viewing.
Design and Guestrooms
The breezy, light-filled interiors by Tokyo-based, Hashimoto Yukio Design Studio draw from the hotel's idyllic waterfront surroundings and the rich traditions of Okinawan culture to create intuitive spaces where guests can connect and recharge. All guestrooms feature mesmerizing views of the crystal clear waters. There are 320 guest rooms housed in a seven-floor building on Seragaki Island, including 71 Regency Club rooms and 16 suites which come with unique privileges such as dedicated check-in and check-out and use of a private lounge. Ideal for honeymoons and private gatherings, the spacious 1,948-square-foot Seragaki Island Suite features a private 1689-square-foot terrace.
Suited for families or longer stays, an additional 24 Beach House rooms are located in a three-story building across from the main hotel. These accommodations range from 592 to 807 square feet, and are equipped with full kitchens or pantry-style kitchenettes.
Food and Beverage
Hyatt Regency Seragaki Island Okinawa is home to six dining outlets, offering delicious comfort food alongside breathtaking scenery. At Shirakachi, diners can savor different Japanese cuisines such as Robatayaki, Teppanyaki, Nihon-ryori and Sushi prepared with local heirloom produce and fresh catch of the day from the surrounding waters. The trattoria-style Cucina Serale serves Italian classics in a relaxing setting while Serale is the hotel's all-day dining restaurant. At the Beach Bar and Poolside Bar, guests can sip on refreshing frozen mocktails as they take in the stunning sunset vistas.
Events and Celebrations
The resort has six banquet venues with ocean views and outdoor terraces that can be configured to range in size from 968 to 1614 square feet to host business retreats and social gatherings. Featuring a glass rooftop and a 32-foot aisle leading toward the ocean, the luminous Seragaki Island Chapel offers an elegant setting for an unforgettable and intimate beachfront wedding for up to 40 guests.
Wellbeing and Recreation
Hyatt Regency Seragaki Island Okinawa provides a wide range of recreational programs focused on self-discovery and wellness, with some programs curated by free-diving world record holder, Sayuri Kinoshita. Activities include diving, morning and sunset yoga, karate, and fun-filled competitions from beach flags to tug-of-war at the ocean's edge as well as walking and cycling tours. For children aged 3 to 12, Camp Hyatt offers exciting programs including arts and crafts, beach activities, and local Ryukyu traditions and culture classes.
After an active day, guests can treat themselves at Spa Hanari. The spa offers personalized wellness programs for the mind and body. Along with a separate cabana and private treatment rooms, the spa includes steam saunas, an outdoor pool with a poolside bar, and an ocean-side lagoon.
Special Opening Offer
To celebrate the opening of Hyatt Regency Seragaki Island Okinawa, guests who book stays between August 21 and October 22, 2018 may enjoy a 50 percent savings on every second room night booked when they stay a minimum of two nights by requesting this offer.