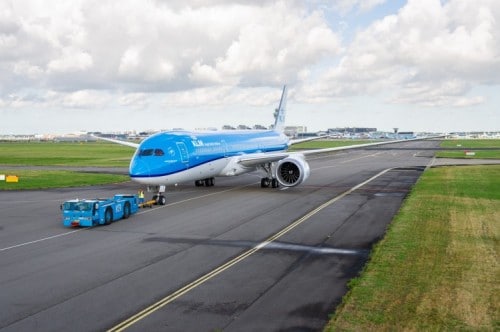 Today KLM welcomed its thirteenth Boeing 787-9 Dreamliner, with registration number PH-BHP, at Schiphol. The aircraft that departed from Seattle yesterday, landed at the Dutch airport this morning. The aircraft bears the name 'Tulip'.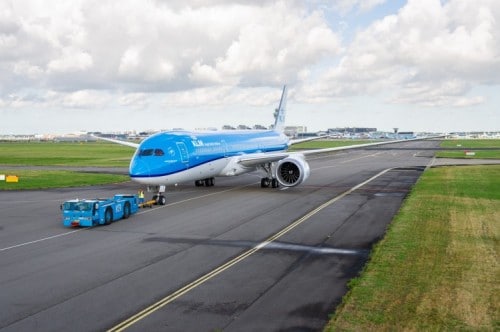 KLM's Dreamliners are named after flowers or flowering plants; a typical Dutch export product that fits perfectly with KLM. Other Boeing 787s were given the names Orchid, Sunflower, Carnation, Lavender, and Margriet. The name of the thirteenth Dreamliner is no accident. The Netherlands is famous for its tulips and is one of the most important export countries for tulips and tulip bulbs.
KLM invests in fleet renewal
In the interest of the customer, KLM will also invest in the renewal of its fleet in 2018. 'Tulip' is the third Boeing 787-9 Dreamliner of the year 2018. The other two Dreamliners were delivered last January and April. In addition, KLM has added seven new Embraers to its fleet this year. This latest Dreamliner is for the time being the last Boeing 787-9. In June 2019, the first Boeing 787-10 is expected to be delivered to KLM.
Boeing 787 emits less CO2
The Boeing 787 produces less ambient noise, uses less fuel and emits less CO2. This is in line with the objective of generating 20% ​​less CO2 emissions in 2020 than in 2011. The Dreamliner consists mainly of carbon fiber composite material that can be cut easily, reducing the waste production process.
The device offers various advantages for the passenger's travel comfort. For example, the higher air pressure in the cabin causes passengers to arrive with a feeling of well-being. For passengers who want to be online during their flight, there is WiFi on board. There are 30 business class seats, 48 ​​economy comfort seats and 216 economy class seats on board.