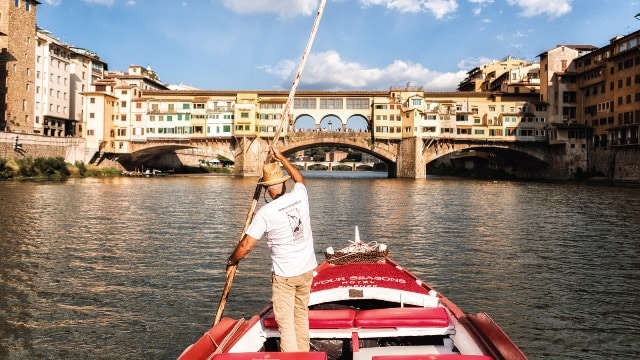 Florence, the cradle of Renaissance, is renowned worldwide for its timeless architecture, culture and arts and for its charming river Arno, crossed by famous bridges in the most central areas of the city centre. Not everyone knows that in ancient times, the Arno River was not only used for fishing, but also for transportation and especially as a supplier of sand and water. Those men who used to spend their days on special flat-bottomed boats collecting sand to build the Florentine palazzos were called renaioli (sand digging), taking their name from the Italian word for sand (rena). This charming but very hard job was abandoned at the end of the 1950s for more modern methods to collect sand, but in 1995, an association decided to start preserving the historical boats, giving people the possibility to see the city from a unique, enchanting point of view.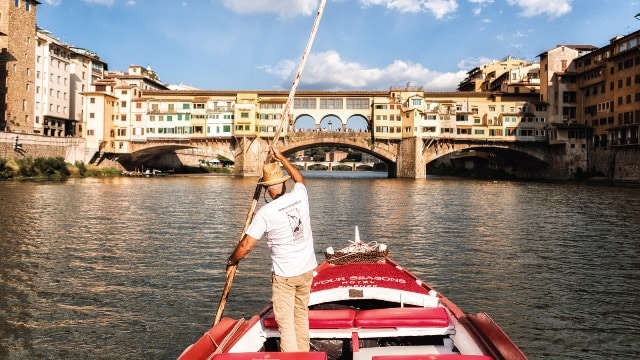 Four Seasons Hotel Firenze has customised the most ancient boat on the river, dated from 1850, with pillows and carpets to offer guests a unique perspective on the most beautiful buildings of the city, with one-of-a-kind guide: a real renaiolo ready to answer all curiosities and questions about this ancestral tradition. The boat moves just as it used to move 200 years ago, thanks to the push that the renaiolo exerts on the bottom of the river with long-sweeping wooden-oars.
Slowly floating from the right side of the river, next to Palazzo della Borsa, guests will have the possibility to admire the magnificent Uffizi Museums crossed by the hidden Vasari Corridor, the world famous Ponte Vecchio with its characteristic jewelry shops, the Sant'Jacopo Sopr'Arno Church, where it's said that Brunelleschi studied how to build the famous Dome of the Duomo, until arriving under Ponte Santa Trinita to see the spectacular Palazzo Corsini. This experience is even more unique when done at sunset, with a quiet atmosphere, nearly surreal, and the sun giving both the sky and the river a pastel pink colour, enchanting and unforgettable.
The customised renaioli boat experience is available through Four Seasons Hotel Firenze from April to September from 9:00 am to 9:00 pm, at EUR 100 for up to 5 people.