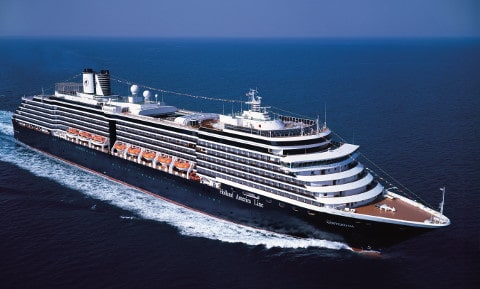 Holland America Line has announced that the Adventure of Your Life Cruise aboard the Nieuw Amsterdam will set sail for the Caribbean on October 28, 2018.
Senior Editor Molly Simms and Beauty Director Brian Underwood from O, The Oprah Magazine will be cruising along with "The First Lady of Nutrition" Ann Louise Gittleman, Unplug Meditation teacher Christina Huntington, best-selling author and transformational speaker Lori Harder and Functional Life Coach™ creator Mastin Kipp. Special programming during the roundtrip Fort Lauderdale cruise will allow guests to gain insight and knowledge from this team of thought leaders and learn from their expertise.
Activities and Events on the Adventure of Your Life Cruise to the Caribbean include:
A nutritionist guru to focus on lessons in wellness, healthy eating habits and tips to feel great.
Unplug Meditation's Christina Huntington who will take guests on a path of meaningful meditation at Just Breathe.
O, The Oprah Magazine editors will go behind the scenes at The Making of O and present beauty advice at O, Beautiful!
Select items from Oprah's Favorite Things will be available for purchase onboard at The O Shop.
The health and wellness specialists are:
Molly Simms, Senior Editor: Onboard host of "The Making of O, The Oprah Magazine."
Brian Underwood, Beauty Director: Onboard host of "O, Beautiful!"
Ann Louise Gittleman: Nutrition specialist and Onboard host of "Let's Eat!"
Lori Harder: Author and transformational speaker.
Christina Huntington of Unplug Meditation: Onboard host of "Just Breathe."
Mastin Kipp: Functional life coach.