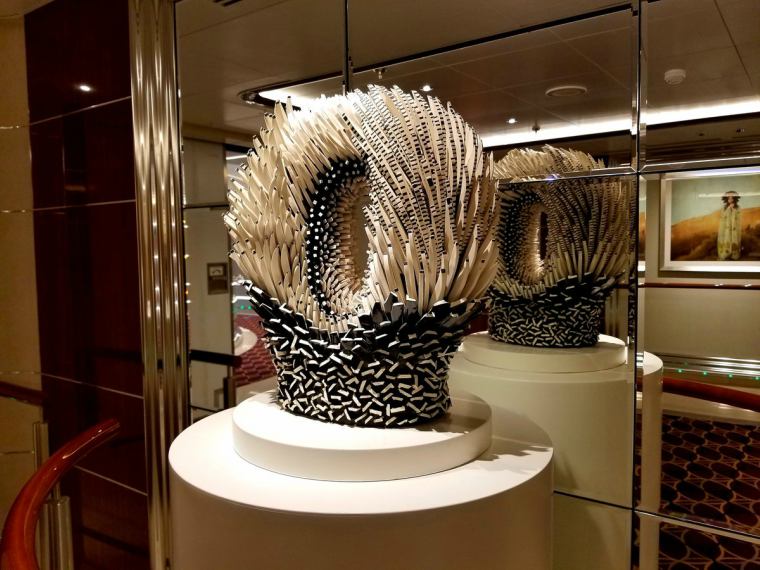 Launched this spring, the Seabourn Ovation promises guests fine culinary experiences by celebrated chef Thomas Keller and dynamic musical numbers based on the works of Sir Tim Rice. Passengers on the small luxury ship will delight as well in designer Adam Tihany's elegant high design concepts.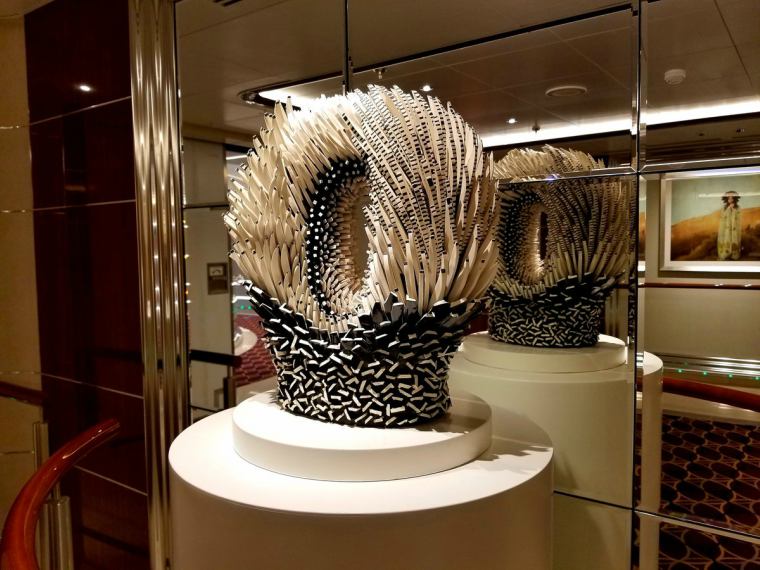 Guests won't be expecting fine art perhaps, let alone lots of it. But they are in for a great treat to come. As part of his design work, Tihany also brought on board the curator and advisor group ArtLink to turn the ship into a floating art gallery.
You could try, but with some 1,600 pieces of art produced by 120 international artists, you'll never be able to see all of the Seabourn Ovation collection.
You'll encounter the ship's most prominent piece often. Anchoring the base of Adam Tihany's nifty double-helix staircase that rises up the middle of the ship's Atrium, the late Murano-born sculptor Luciano Vistosi's gorgeous crystal work Warrior the Second is the color of the greenish sea. The title of the 1991 work is a reference to an earlier Vistosi work that is on the Ovation's Tihany-designed sister ship Seabourn Encore.
While guests are admiring sculptures and paintings they might not realize that there's a functional purpose as well to art on ships. As a captive audience, passengers have the time and occasion to linger over art much longer than in a hotel stay. Thus, the challenge for curators is that art must hold guests' interest much longer.
To that end, "Ovation corridors are used as journeys," says ArtLink founder Tal Danai. Some 400 multi-media works alone grace the walls on Decks 8 and 9. A series of gorgeous 19th-century prints that reflect the real and imaginary natural world of diverse flora and fauna habitats are captivating.
Four works by French artist Jérôme Cavailles are inspired by the cabinets of curiosity popular in previous centuries. Viewing the small but detailed Cavailles pieces, which pay homage to the old west and American cinema, guests can read into the stories as they wish.
Austrian photographer Alexandra Hager's 2017 digital print on fine art paper, Mabel Rose is the first in an edition of 10. Known for her doll-like look to her models, Hager has Mabel wearing a huge bow in her hair and hummingbirds flitting about. It's offbeat and dazzling.
Another of the ship's primary pieces, Korean ceramicist Yoo Eui Jeong's Luck (+) vase in the Deck 5 elevator lobby is made in the traditional celadon glaze technique. The young artist who is based in Seoul and has a Ph.D. in ceramics makes statements in his works on the explosion of commercial products in Korea. His hand-made vases have been displayed at London's Victoria and Albert Museum.
A true traveler's contemplation on nature and spatial boundaries, Migratory Species I by South African artist Barbara Wildenboer is a colorful paper collage on the wall in the Seabourn Square in which vibrant bird wings spread out over of a cartographic background. In other works, she also turns old natural history books into ribbons of text that splay out from the spine and bring to mind a nervous system.
The culinary theme in the Ovation's signature restaurant, the Grill by Thomas Keller, is a 50s and 60s steakhouse. The aesthetic is enhanced by black and white photographs of the era by the likes of long-time Condé Nast editorial director Alexander Liberman, Magnum photojournalist Eve Arnold, and fashion photographer William Helburn. The space includes two lithographs by abstract expressionist Frank Stella.
Below the Grill's back stairwell, the decorative Spice Wall represents Keller's favorite spices of cinnamon, clove, turmeric and more. The wall, as conceived by Tihany Design and designed and executed by ArtLink, consists of glass sheets and glass bricks cast in sand that gives it a tactile surface. The wall is lit from behind but its sheen does not distract diners. Ship vibration required that engineers were consulted in mounting it on the wall.
Chilean-born, Berlin-based artist Jose Romussi's mixed media work is based on a black and white fashion photograph over which he hand-embroidered wild flowers onto a woman's features. From his series called Newserie, it's simple but compelling to the point that viewers can't help but let their eyes trace the colorful flow.
Adam Tihany's favorite space on the Ovation, and it might become yours, is the tiny Sushi restaurant. At the entrance, Brazilian-born, London-based Valeria Nascimento's Black Coral is a deep-black pigmented porcelain work whose tiny fragments suggests a marine organism. The homage to ocean life is a at once fragile and starkly powerful.
Under Founder and CEO Tal Danai, who graduated from New York's School of Visual Arts, the ArtLink group has been working for half a dozen years in the hospitality industry, with projects completed for more than one hundred hotel clients in dozens of countries, from the Mandarin Oriental Hyde Park in London to the Waldorf Astoria Chengdu.
As part of ArtLink's concentration on emerging artists, since 1997 they have worked with a project called the [email protected]'s International Young Art Program. Presently, the firm also offers gallery work opportunities aboard luxury cruise ships.