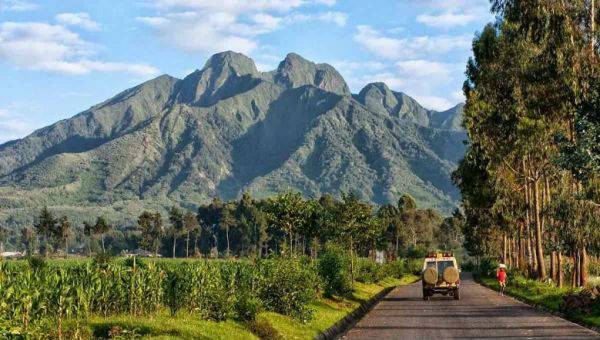 Tauck, the 93-year-old leader in upscale guided travel, is introducing two new itineraries next year that both culminate in a once-in-a-lifetime opportunity to view endangered mountain gorillas in their native Rwandan habitat.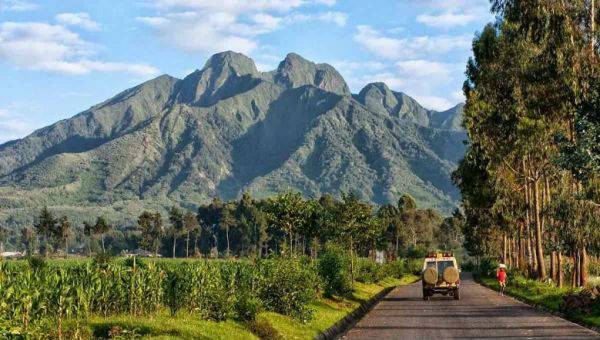 Mountain gorillas can stand more than five-feet tall and weigh up to 430 lbs., and they live in tight-knit, highly social groups. Although critically endangered, mountain gorillas have increased in numbers in recent years from an estimated 480 in 2010 to over 1,000 at present, according to the World Wildlife Fund. They are found in just two locations in Africa; the Bwindi Impenetrable National Park in Uganda, and the Virunga Mountains that border Rwanda, the Democratic Republic of Congo, and Uganda.
The two new Tauck itineraries are both small group journeys, with a maximum of just 24 guests per departure. Each begins with a multi-day safari experience in Tanzania's Serengeti and concludes with a three-night stay in Rwanda highlighted by the mountain gorilla trek. The 16 and 13-day trips differ midway through their itineraries, when one journey includes a safari experience in Kenya, while the other explores the western Serengeti and Zanzibar. Both are part of Tauck's Earth Journeys portfolio of trips offered in partnership with the award-winning nature documentary filmmakers at BBC Earth
Tauck's "Mountain Gorilla Safari: Kenya, Tanzania & Rwanda" itinerary (16 days, from $17,590 per person, plus international airfare) will operate next year on May 29 and December 14. A third departure, set for August 14, 2019, is already sold out. The 13-day itinerary, "Mountain Gorilla Safari: Tanzania, Zanzibar & Rwanda," is priced from $15,790 per person plus international airfare, and will have three departures in 2019, on July 29, September 2 and December 30. Included in the price of both itineraries are multiple on-tour flights (five and seven flights, respectively), including a flight to Kigali, Rwanda, where guests will begin their mountain gorilla adventure with an overnight at the Kigali Serena Hotel.
The following day, guests will visit a local coffee cooperative that empowers women to become coffee growers, before travelling on to the city of Ruhengeri at the base of Rwanda's Volcanoes National Park. After checking in for a two-night stay at the One&Only Gorilla's Nest lodge, guests will visit the Dian Fossey Gorilla Fund Museum to learn about the celebrated primatologist and conservationist, and the gorillas she dedicated her life's work to.
After rising early the next morning, guests will travel to the headquarters of Volcanoes National Park for a briefing and question-and-answer session with a local guide, before setting off in a safari vehicle to the trailhead and the porter-supported hike that will bring them to the mountain gorillas' habitat. After a final evening at the One&Only Gorilla's Nest, guests will travel home the following day.
A CHOICE OF TWO ITINERARIES
Tauck's "Mountain Gorilla Safari: Kenya, Tanzania & Rwanda" itinerary and its "Mountain Gorilla Safari: Tanzania, Zanzibar & Rwanda" journey both begin with an overnight in Arusha, Tanzania at the Arusha Serena Hotel, before visiting Lake Manyara National Park the following day while en route to the Ngorongoro Conservation Area and the Ngorongoro Crater. A multi-night stay along the crater's rim at the Ngorongoro Serena Safari Lodge is highlighted by multiple game drives and a visit to Oldupai Gorge, where archaeologists Louis and Mary Leakey discovered the fossilized remains of homo sapiens' ancestors estimated at 1.8 million years old.
Guests on the Kenya, Tanzania and Rwanda itinerary then travel to Kenya for a seven-night safari. Comprised of multi-night stays at the Amboseli Serena Safari Lodge, Fairmont Mount Kenya Safari Club and Fairmont Mara Safari Club, guests' time in Kenya includes multiple game drives, an early morning balloon ride over the Masai Mara, a private barbecue dinner under the stars, and visits to two wildlife sanctuaries and a Maasai village.
Guests on the Tanzania, Zanzibar and Rwanda itinerary, meanwhile, enjoy a hot air balloon ride over the Serengeti before travelling on to the Serengeti's Western Corridor for a two-night safari featuring accommodations in an elegant tented camp.A subsequent two-night seaside stay along the Indian Ocean in Zanzibar is highlighted by a spice-themed tour of Stone Town and a cruise aboard a traditional "dhow" sailing vessel.